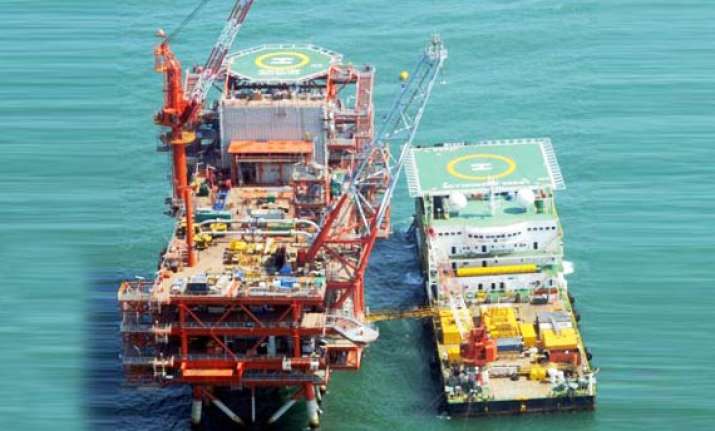 New Delhi, Dec 22: With gas production at Reliance Industries' KG-D6 block falling by more than one-third, a Parliamentary panel has called for review of all contracts and asked government to impose stringent provisions for failure to stick to committed work programme like drilling of wells.

The fall in output at Dhirubhai-1 and 3 fields in the KG- basin block to 32.94 million cubic meters per day this month from the 54 mmcmd peak hit in March, 2010, has been blamed on RIL not sticking to its commitment of putting 22 wells on production by March, 2011, and another nine by April, 2012.

The Standing Committee on Petroleum and Natural Gas in its report tabled in Parliament today expressed surprise that "there is no specific penalty stipulations in Production Sharing Contracts (PSC) in case of shortfall in achieving the production targets envisaged in either the approved field development plan (FDP) or annual work programme and Budget."

"The Committee desire that government/DGH to review PSC contracts entered with various operators and incorporate stringent provisions therein for any breach in approved plan by the operating companies," the report said.

According to the approved development plan, output should have reached 61.88 mmcmd this month. Associated gas production from the MA oil field in the same licence area was 6.86 mmcmd, for a combined total of 39.8 mmcmd, versus the expected 70.39 mmcmd.

RIL has so far drilled 22 wells on D1&D3 but has not put four wells on production due to insignificant volumes. Of the 18 wells connected to production system, four had been shut due high water cut. One well on MA oilfield has also been shut down.

The Oil ministry told the committee that Directorate General of Hydrocarbons (DGH) is asking "the operator (RIL) to expeditiously drill wells in line with the approved Field Development Plan (FDP) during the 2012-12, which may help to revive the falling gas production from these fields."

Also, well-wise performance analysis was also being carried out by DGH to ascertain the reasons of decline in gas production from existing wells.

"The Committee would like to know the findings of DGH relating to the well-wise performance analysis to ascertain the reasons of decline in gas production from existing wells," the report said. "The Committee may be apprised of the same at the earliest."

The panel said in view of the large scale dependence on natural gas as fuel, the unscheduled cut in KG-D6 production has adversely affected the plans of various important sectors of economy including the priority sectors like fertiliser and power.