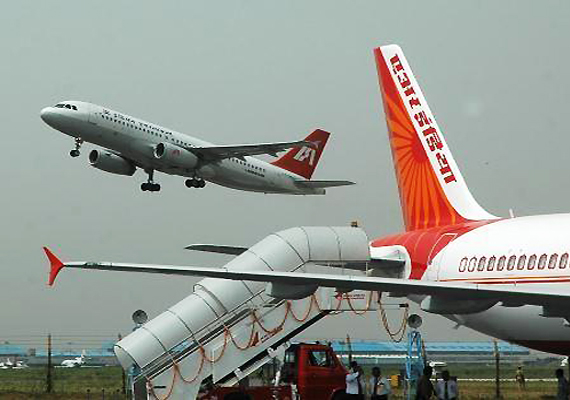 Mumbai, Mar 25: Faced with a strike threat from a section of pilots from April 2, Air India today claimed there will be no disruption in operations even as its largest union, ACEU, distanced itself from the agitation.
The airlines came out with a statement, saying "there is no threat of any strike from any of the registered unions of Air India employees and all its operations will be normal".

In a breather to the debt-laden national carrier, the Air Corporation Employees Union (ACEU), which has the backing of 12 associations and union of the airlines, issued a separate statement saying it has not given any strike notice of its members including ground staff, cabin crew and other categories and that the operations will be smooth.

The Air India management asked the protesting unions not to resort to any precipitate action in the present circumstances which may affect revenue and load especially in the coming summer peak season.

It also noted that its management met the unions and assured them that it would clear backlog of payments by May as soon as the budgetary support is received towards equity infusion from the Government.

Some pilots owing allegiance to the Indian Commercial Pilots' association and a few trade unions had on March 22 after talks with the AI management threatened to go on strike from April 2 if their dues were not cleared by April 1.

The strike call was given after three rounds of talks with the management failed to resolve the issues of Air India employees, who have not been paid their dues for the past five months.

The strike warning followed the demand of the unions for a written commitment from the management that it will clear the entire dues before April 1, union sources had told PTI.

Air India, which is looking forward to the budgetary support of Rs.4,000 crore proposed in this year's general budget, said there has been a "significant improvement" in the load factors, yields and revenues in the months of February and March till date and that it is quite evident that the carrier is "on the road to recovery".

The ACEU said AI workers were being "instigated by disgruntled elements" to go on strike every summer season, when the tourist traffic is bound to grow.

"Time and again certain vested interests groups mislead people in general to create confusion among the passengers of AI and resultantly the passengers stop making future bookings and obviously this gives benefits to our rival airlines," the ACEU said.

It said that the managment had already issued the schedule of payment spread for March, April and May and added "we will not let this schedule be changed or deviated from any obstensible threats".

The ACEU noted that the airlines was running a whopping debt of Rs.72,000 crore with daily losses of Rs.22 crore.