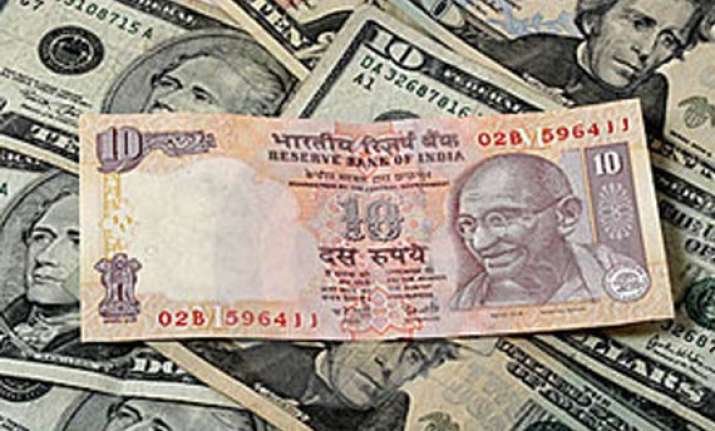 Mumbai, Nov 23: Falling for the eight day in a row, the Indian rupee today ended at 52.35/36-- its all-time closing low—against the US dollar amid continuing signs of captial outflows and steep fall in stock markets.

Dealers said persistent capital outflows amid late dollar buying by importers kept the rupee under pressure despite suspected Reserve Bank of India (RBI) intervention.

Referring to the decline in the value of rupee, Finance Minister Pranab Mukherjee in New Delhi said, "RBI is closely monitoring the situation and will do the needful as required."

In a see-saw trade at the Interbank Foreign Exchange (Forex) market, the domestic unit opened weaker. However, dollar selling by non-PSU banks as well as suspected intervention by the central bank helped the rupee to bounced back to the day's high of 51.70.

The Reserve Bank's intervention, however, could not be officially ascertained. The rupee had yesterday plunged to its life-time low of 52.73 intra-day.

Meanwhile, the BSE benchmark index Sensex fell to over two-year low of 15,699.97 today as investors sold heavily ahead of the settlement in this month's derivative contracts amid worries of slow growth in global economies.

"As non-PSU banks entered the forex market, Indian rupee traded strong in first half. However, in the second half it traded weak, mainly taking cues from global markets where dollar quoted strong against the major currencies. Local equities closed down by over two per cent which also weakened the rupee," Alpari Financial Services (India) CEO Pramit Brahmbhatt said.

At the fag end, the rupee came under pressure again on dollar demand from importers, mainly oil refiners, to meet their month-end needs and touched a low of 52.60 before concluding weak at 52.35/36, down 6 paise from its last close.

FIIs sold shares worth USD 623.99 million in last six days since November 15.

JRG Wealth Management Lead Forex Derivatives Analyst said, "I feel RBI intervention, if it has happened, is a very temporary thing and definitely cannot be sustained for long. I feel even with intervention, the rupee cannot go up beyond Rs 51 to a dollar while if there is no intervention, it will slide down to Rs 54 and beyond."

The rupee premium for the forward dollar ended bearish on receiving by exporters. The benchmark six-month forward dollar premium payable in April settled weak at 81-84 paise from 91-93 paise yesterday and far-forward contracts maturing in October also finished sharply lower at 136-139 paise from 150-153 paise previously.

The RBI fixed the reference rate for the US dollar at Rs 52.1005 and for the euro at Rs 70.0732. The rupee snapped its sliding string against the pound sterling and closed higher at 81.56/58 from Tuesday's close of Rs 81.93/95 and also bounced back to Rs 70.15/17 per euro from Rs Rs 70.88/90 previously.

It, too, recovered against the Japanese yen to Rs 67.85/87 per 100 yen from its last close of Rs 68.02/04.