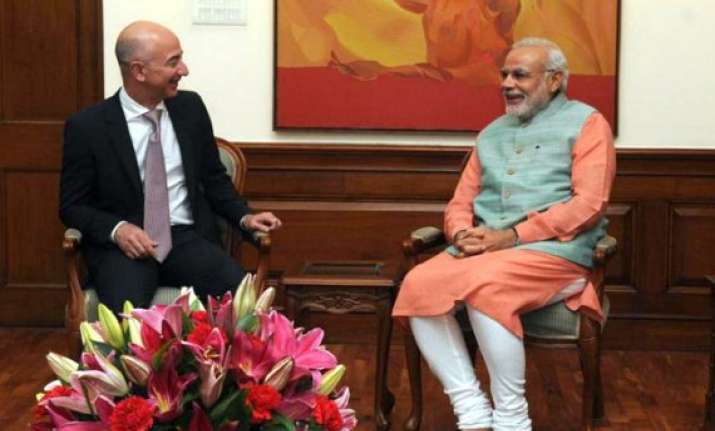 New Delhi: Amazon CEO Jeff Bezos on his first visit to India, met Prime Minister Narendra Modi yesterday at his official residence.  
"I am completely at his disposal; he (Narendra Modi) has a fantastic international reputation. I am super excited to meet him," Jeff Bezos.
Amazon.com has recently committed $2 billion in India to boost logistics and back-office support and also plans to sell packaged food and beverages in India from mid-October.
Jeff discussed about company's future plans in India.
Bezos said, "I find India super energising. I get here and people are very energetic and energising. They are inventive and entrepreneurial. It is fun and exciting."
Amazon, which has already started accepting bookings for Coco-Cola Zero - the beverage's low-calorie variant, will eventually start selling fresh food in India.
Amazon, which opened its Indian website last June, has drawn up the battle lines by slashing prices, launching same-day delivery, adding new product categories and embarking on a high-voltage advertisement campaign.
In July, Amazon said it will invest a further $2 billion in India after the country's largest e-tailer Flipkart attracted $1 billion of fresh funds, raising the stakes in a nascent but fast-growing e-commerce sector.