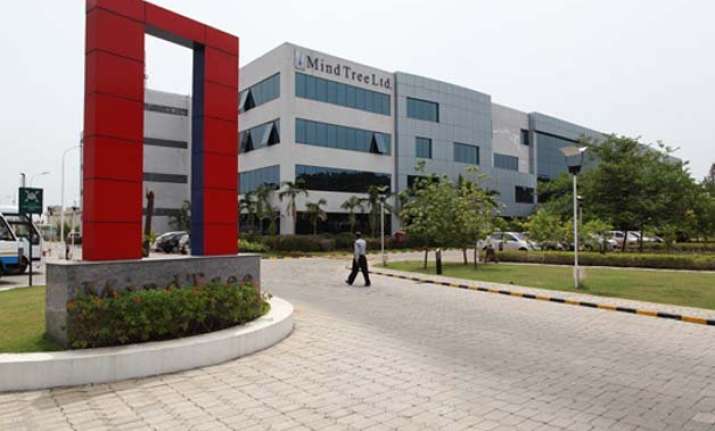 New Delhi: Mid-sized IT firm Mindtree has posted 58.6 per cent growth in net profit at Rs 140.8 crore for the quarter ended December 31, 2014, helped by higher operating efficiency and utilisation levels.
The company also announced the acquisition of US-based insurance solutions provider Discoverture Solutions for $15 million (over Rs 92 crore).
The company's revenues grew 15.3 per cent to Rs 911.7 crore in the quarter under review, from Rs 790.6 crore in October-December, 2013. The profit in the third quarter of last fiscal was at Rs 88.8 crore.
"There are a couple of elements there. One is higher operating efficiency and another is higher utilisation rates.
Our ability to drive significant optimisation in our chosen verticals, in IT and application management, remains a strong foundation for delivering sustained value to our clients," Mindtree CEO and managing director Krishnakumar Natarajan said.
In dollar terms, the net profit stood at $22.8 million (up 60.5 per cent year-on-year), while revenue grew 16.2 per cent to $147.7 million in the said quarter.
The Bangalore-based firm said it has acquired US-based insurance solutions provider Discoverture Solutions for $15 million (over Rs 92 crore).
The move is aimed at helping the firm move to the top 3 global P&C (property and casualty) tally of service players.
The company had 201 active clients as of December 31, 2014 with the addition of one client in $50 million category.
It added 1,016 employees during the quarter (gross) to take its headcount to 13,323 employees. Attrition levels stood at 18.1 per cent on trailing 12 months basis.
The Board of Directors have announced an interim dividend of 40 per cent or Rs 4 per equity share for the quarter ended December 31, 2014.
During the quarter, retail, CPG and manufacturing accounted for Rs 202 crore, BFSI (Rs 214.1 crore), Hitech and media services (Rs 298.5 crore) and Travel and hospitality (Rs 147.9 crore) of the said quarter's revenues.
"The funnel in digital services continues to be strong. About 32 per cent of our revenues are coming from digital transformation and that area is a growth engine for us. It is a big part of our business," he said.
On the acquisition, Natarajan said the move will help the firm tap into the $1.5 billion opportunity in the global P&C services market.
The acquisition will also help Mindtree gain access to 15 marquee clients and add over 300 experts across US, UK, Canada and India.
Founded in 2002 and headquartered in Arizona, US, Discoverture has subsidiaries in the UK, Canada and Bhubaneswar in India.
The acquisition is subject to customary closing conditions and regulatory approvals and is expected to close in the next 4-6 weeks.