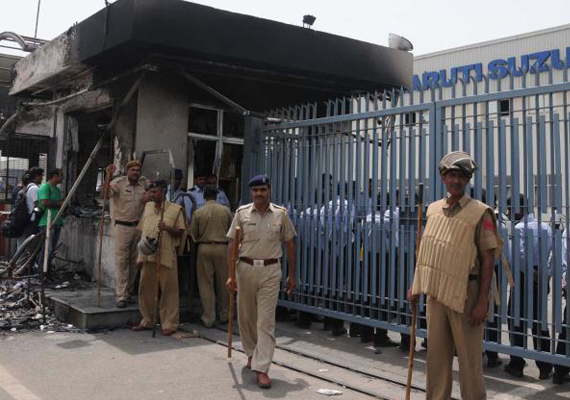 New Delhi, Aug 20: After a month-long lockout at its Manesar facility, Maruti Suzuki India is ready to reopen the plant tomorrow with less than a tenth of its total workforce slated to resume operations in a single shift.
The company had declared an indefinite lockout at the Manesar plant on July 21 following the worst ever violence in its history on July 18 that left one senior official dead and nearly 100 others injured.
"We are reopening the plant with 300 workers. With this workforce, we will operate just a single shift from 8 am to 4:30 pm," Maruti Suzuki India (MSI) Chief Operating Officer (Administration) S Y Siddiqui told PTI.
Initially about 150 cars will be rolled out every day instead of 1,500-1,700 units earlier. Production will be gradually ramped up at the plant, which has an annual capacity of 5.5 lakh units.
The company will restart the production at the unit under heavy police presence. It has also formed its own special force, comprising ex-service men.
MSI has also decided to terminate services of 500 permanent workers, who were allegedly found to be involved in the violence inside the plant. Besides, MSI is also said to be planning to remove another 500 contract workers over their alleged role in the violence and arson.
Prior to the incident, the plant had an employee strength of 3,300, of which 1,528 were permanent.
To increase the workforce, the company will start fresh recruitment of permanent workers from September 2 and existing contract workers will also be considered for the same.
MSI Chairman R C Bhargava had last week said: "On the production line, we would not have contract labourers, but for the short-term and for flexibility, we may have about 20 per cent contract labourers, but they will be absorbed in due course of time".
The decision of the company to fire the 500 regular workers has evoked strong reactions from trade unions across political spectrum.
Major central trade unions, including CPI-affiliated All India Trade Union Congress (AITUC) and CPI(M)-affiliated Centre of Indian Trade Unions (CITU), will meet on August 21 to finalise a rally in the National Capital, demanding reinstatement of the sacked workers.
Even the union of MSI's Gurgaon unit, Maruti Udyog Kamgar Union, had opposed the mass sacking at the Manesar plant.
Last week, workers from different factories in the Gurgaon-Manesar industrial belt along with trade unions had opposed sacking of the 500 regular workers at MSI's Manesar plant and demanded their immediate reinstatement.
CPI(M) Rajya Sabha Member Tapan Kumar Sen had raised the issue in the House, terming removal of workers as "vindictive and retaliatory". JMM MP Sanjiv Kumar had demanded a CBI probe into the violence.