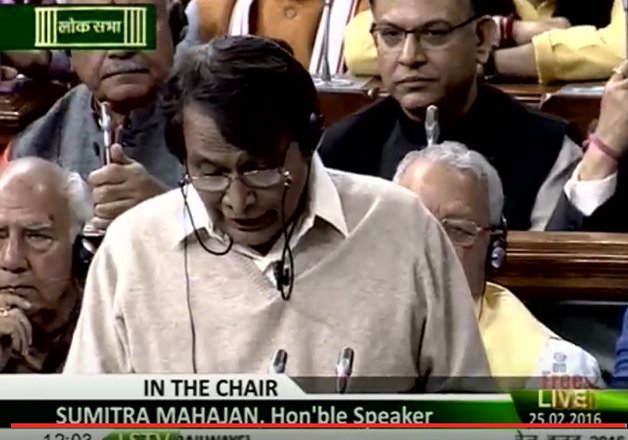 New Delhi: Railway Minister Suresh Prabhu today presented the Rail Budget for 2016-17 in the Lok Sabha. Presenting his second Rail Budget, he said that core objective is to become an engine of employment generation and economic growth at national level.
He said Railway will generate 9 crore man-days employment by 2017-18 and 14 crore man-days by 2018-19. Minister announced New freight corridors Delhi-Chennai, Kharagpur-Mumbai and Kharagpur-Vijayawada. He said that he is happy to announce that action has been initiated on 139 Budget announcements last year.
The minister announced setting up a Rail university at Vadodara. He announced to take up on priority the provision of passenger amenities and beautification on stations at pilgrimage centres including Ajmer, Dwarka, Gaya, Puri, Varanasi and Parasnath. In addition to this, Prabhu said to spread awareness about our national animal, the tiger, complete packages would be provided by railways to wild life circuits.
Highlights:
* Direct procurement of diesel to help save Rs 1,500 crore in 2016-17
* Railways to monetise land on tracks by leasing out for horticulture and tea plantation
* No hike in railway fares: Suresh Prabhu
* Railway Board to be re-organised
* Expect to increase ad revenue four times
* Prabhu makes no mention of passenger fares, freight rates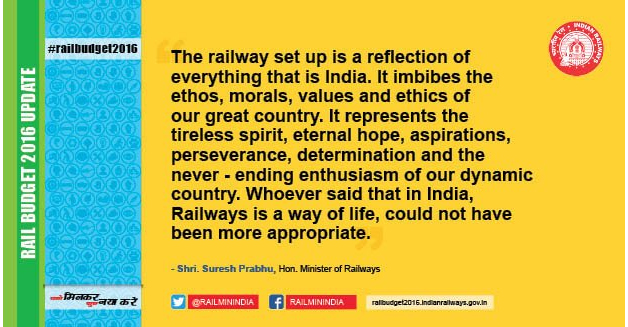 * Watchdog proposed for Indian Railways
* Prabhu proposes to create rail auto hub in Chennai
* Circuit trains to connect important pilgrim centres
* Two dedicated freight corridors by 2019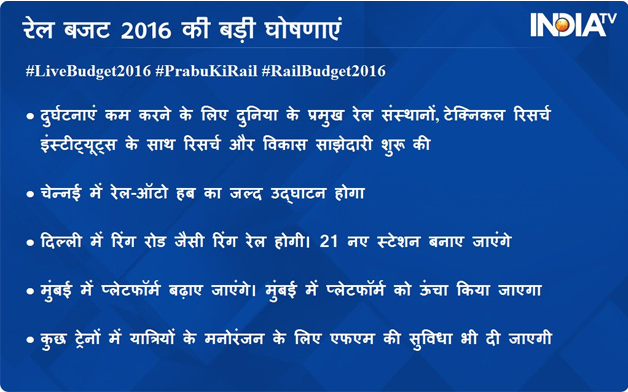 * Project progress to be done through drones
* 4000 cr annualised revenue from manufacturing by 2020
* Exploring the possibility to monetise data
* Railway will introduce Deen Dayal coaches for long distance trains for unreserved passengers
* High-speed train on Mumbai-Ahmedabad route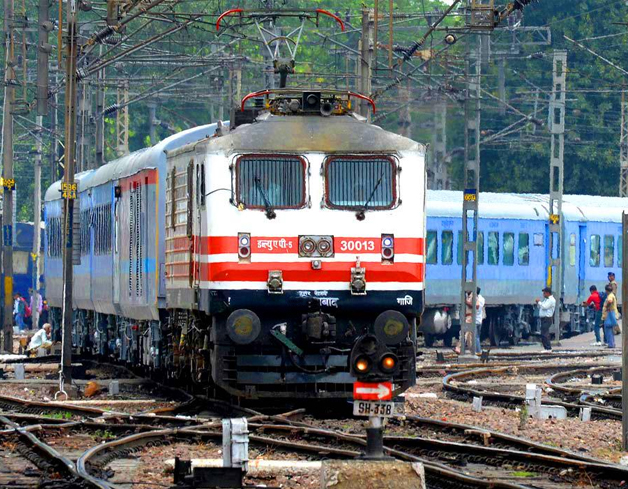 * Special focus of increasing ad revenue
* Ticket sale via handheld devices soon
* Round the clock helpline for women to be introduced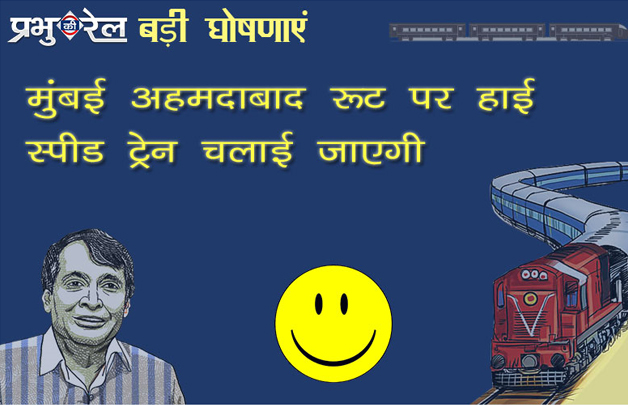 * National Rail Plan to harmonise to create synergy for multi-modal transportation netowrk
* CCTV cameras at all Tatkal windows soon
* Freight basket of commodities to be expanded
* India's first Rail auto hub to be introduced in Chennai
* Will appoint key customer manger to deal with grievances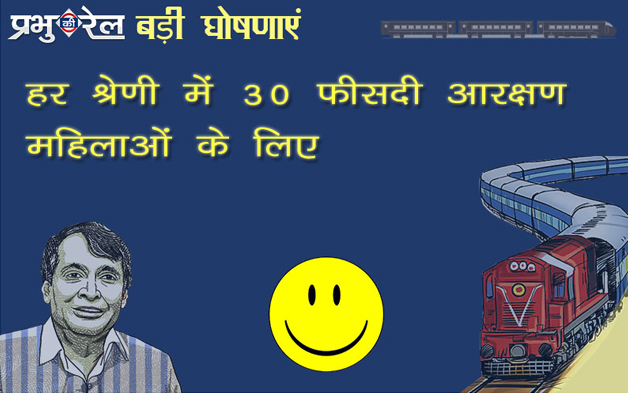 * Propose to invite FM radio stations to provide train borne entertainment via PA systems: Prabhu
* Reservation in catering units to SC/ST, OBCs and Women: Suresh Prabhu
* Will introduce separate toilets for "divyaang" people: Prabhu
* We intend to take up on priority provision of passenger amenities,beautification of stations at pilgrimage centres including including Ajmer, Amritsar, Bihar, Chengannur, Dwarka, Gaya, Haridwar, Mathura, Tirupati, Varanasi: Suresh Prabhu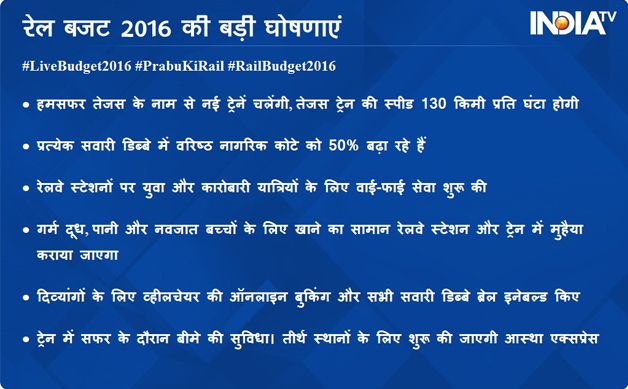 * Kolkata Metro phase-I to be ready by 2018. Two elevated suburban corridors in Mumbai
* Bar code readers, GPS display, automatic doors, vending machines in trains soon
* We intend to take up on priority provision of passenger amenities, beautification of stations at pilgrimage centres: Prabhu
* Baby food, hot water and hot milk to be made available at stations
* Coolies to now be called 'sahayaks'
* Travel insurance options for passengers at the time of booking
* E-booking on concession passes for journalists to be introduced, says Suresh Prabhu
* Local cuisine of choice to be made available to passengers on trains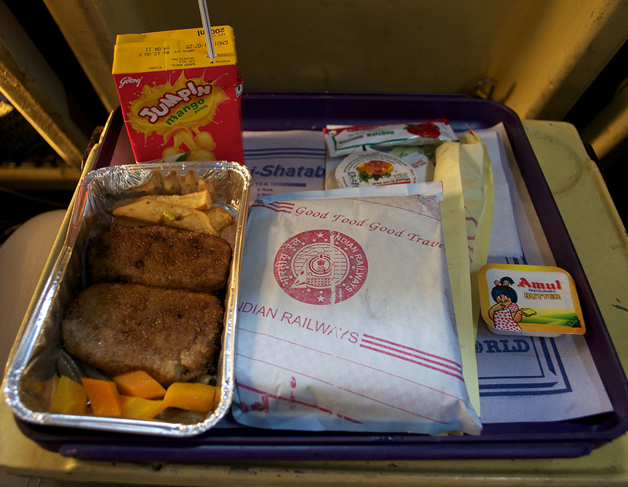 * 'Clean My Coach' service through SMS for passengers
* Will introduce cancellation facility for passengers through 139
* Sub quota of 33 % for women across all reserved categories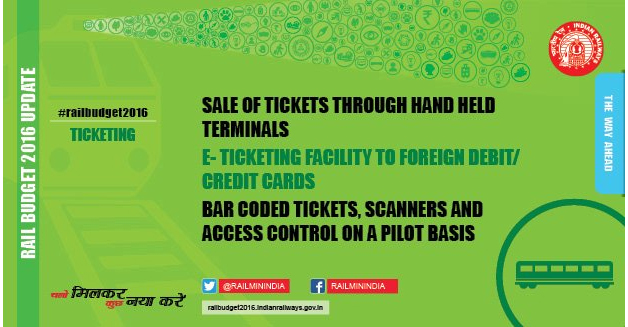 * Introduced world's first bio-vaccum toilet in trains. 17,000 bio-toilets in trains this year, additional toilets at 475 trains.
Inroduction of Uday, Humsafar, Tejas trains
* Humsafar - full AC-III, Tejas - 130 km per hour with onboard services through one service provider and
* Uday - overnight double decker on busy routes. All 3 trains are long-distance unreserved superfast trains.
* IRCTC will make available local cuisine of choice, hygienic food.
* Redevelopment of 400 stations through PPP
* 2020 deadline for removing unmanned crossings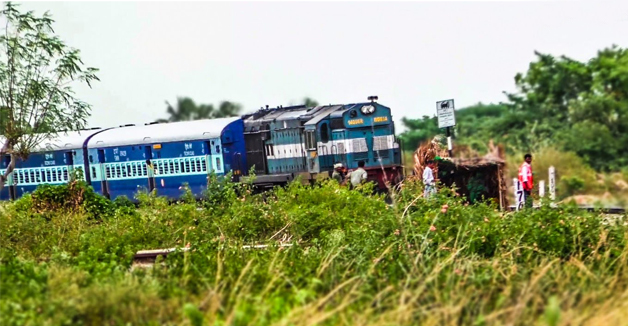 * Free wifi at 100 stations this year, expect 400 stations by next year
* We have a traget of commissioning 2,500 km of broad gauge this year: Manipur, Mizoram to be on broad gauge map
* Internal audit to revamp railway functioning: Prabhu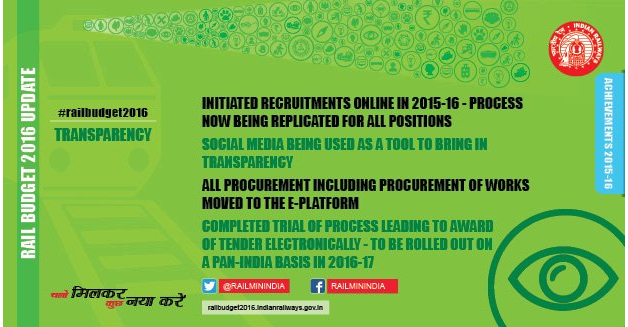 * Joint venture with states for new projects. Electrification budget increased by 50 per cent
* 5,000 additional berths created. Increased the lower berths quota for senior citizens
* Make In India: 2 factories to add to global supply chain
* Rs 1.21 lakh crore investment this year
* LIC to invest Rs 1.5 lakh crore to fund railway projects
* Happy to announce that action has been initiated on 139 budget announcements made last year: Prabhu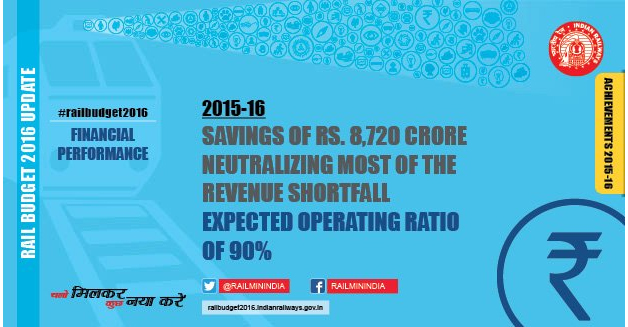 * 2000 km of electrification proposed this year, expect 2,800 km new tracks next year: Prabhu
* Bankable Railway projects are now assured of funding and should be completed within the next 3-4 years: Prabhu
* Our PM Narendra Modi ji had once said 'my vision is to make Railways the backbone of India's progress and economic development'. We are making all effort to translate his vision into reality: Prabhu
* Expect Operating Ration of 92 per cent for FY17, 90 per cent after factoring in 7th pay commission: Prabhu
* Time tabled freight trains by 2020: Prabhu
* Better connectivity for North East:Prabhu
* A saving of 8,720 crore rupees for budget estimates of last year will be effected this year: Prabhu
* We need to reimagine the conventional ways of solving issues. Co-operation, collaboration and communication, hallmarks of Indian Railways's journey forward: Prabhu
* We are faced with challenging times. We need to reorganize & rejuvenate Indian Railways. We will exploit new sources of revenue: Prabhu
* Railway Minister Suresh Prabhu presents Rail Budget 2016-17 in Lok Sabha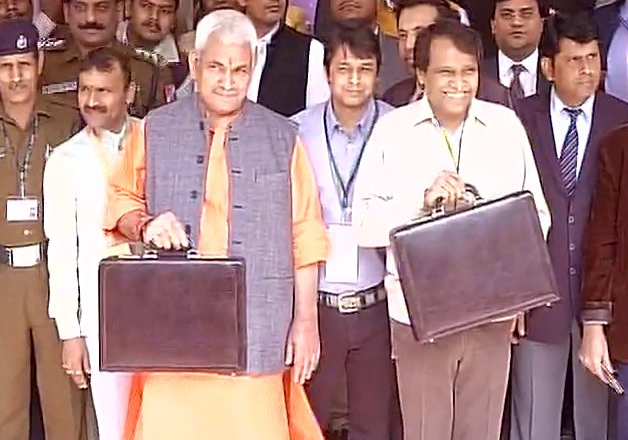 * Suresh Prabhu, Manoj Sinha arrive at Parliament carrying Rail Budget2016 documents
* It has been prepared in the interest of the nation and the railways, taking into consideration the ground reality before finalising it: Prabhu
* I hope that we will be successful in fulfilling their expectations: Prabhu
* The entire country has great expectations and hopes from the railways. Beside, the people have their own concerns and problems as well. Hence, we have prepared the budget taking into account their hopes and aspirations from the railways: Prabhu
* Railway Minister Suresh Prabhu leaves his residence for the Parliament.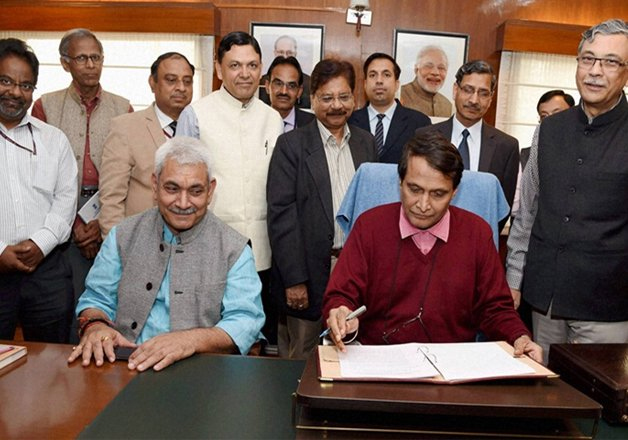 Suresh Prabhu is the 43rd Railway Minister of India to present the Rail Budget since September 2, 1946. Former Congress leader Jagjivan Ram has the record for presenting the most number of Railway Budgets (six times between 1956 and 1962). Three Railway Ministers - Lal Bahadur Shastri, CK Jaffer Sharief and Lalu Prasad Yadav - have presented the Railway Budget five times each, while three others - N.Gopalaswami Ayyangar, SK Patil and Nitish Kumar - have presented the Railway Budget on four occasions each.