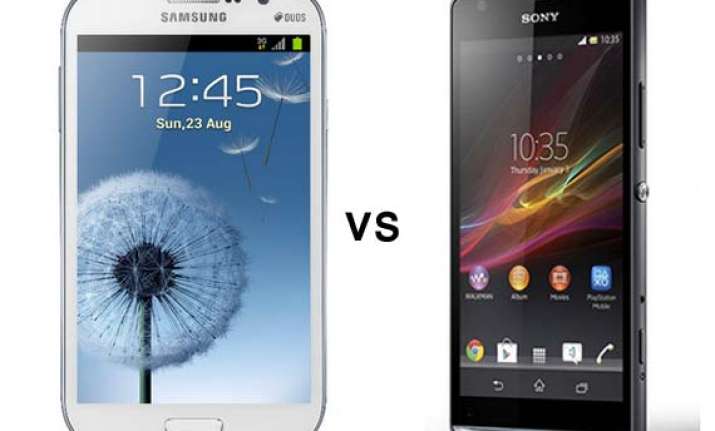 New Delhi: The large-sized 'phablets' are getting popular in the Indian smartphone market. Recent numbers released by IDC shows that sales of phablets — devices with a screen size of 5-7 inches that combine the functionalities of a smartphone and a tablet — grew 17-fold in the second quarter of calendar 2013.
Phablets are mostly liked for their large screen real estate to view media, watch movies, for note taking and reading articles. The recent entrant to join the phablet race is the Xperia C phablet, which competes against the popular Samsung Galaxy Grand duos in the market. The device has a 5-inch screen, Android 4.2, dual-sim functionality and a quad-core processor, with a price tag of Rs 21,490.
On the other hand, Samsung Galaxy Grand is a mid-range smartphone that has Galaxy Note-like aesthetics and offers lots of good features – like a better camera, bigger screen, and a faster processor.
Here is a detailed comparative analysis of both these devices:
Design and build
The Xperia C carries Sony's design aesthetic forward with its well defined rectangular shape and a curved back panel. Available in white, black, and purple, the phone is reminiscent of Sony's premium build quality. The Xperia C measures 141.5 x 74.15 x 8.88 mm and weighs 153 grams.
In terms of build quality and looks, Samsung is not a slouch either. The Samsung Galaxy Grand has a shiny body, which adds to its look and is not too slippery. The smartphone is surrounded by a solid metal strip which can easily withstand a few falls. The handset measures 143.5mm x 76.9mm x 9.6 mm and weighs 162grams. The placement of the volume rocker (on the top left side), the power button (on the right hand top), a 3.5 mm jack and micro USB port (both on the top) are well planned.