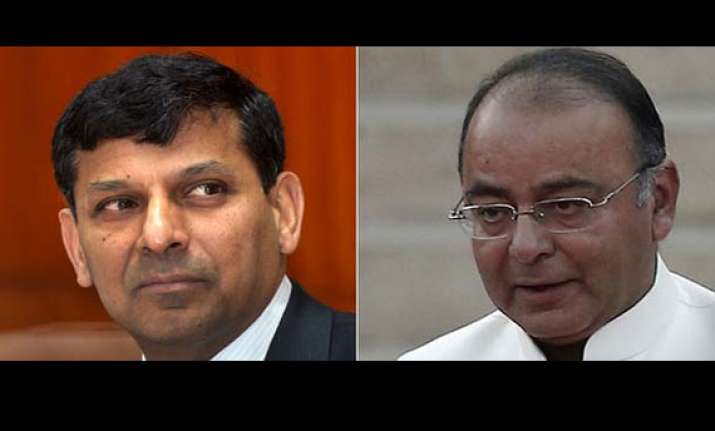 New Delhi: Reserve Bank Governor Raghuram Rajan on Tuesday called on new Finance Minister Arun Jaitley and discussed the prevailing economic situation as well as the issues related to the rise in prices.
The meeting, which comes just days before the next bi-monthly monetary policy review on June 3, lasted for about 50 minutes. 
"It (curbing inflation) is absolutely a task that the government and the RBI are engaged with," Mr. Rajan told reporters after the meeting. 
Soon after taking charge of the Finance Ministry on Tuesday, Mr. Jaitley pledged to contain price rise. 
Amid RBI maintaining high interest rate regime to tame inflation, Mr. Jaitley stressed on the need of a "balancing act" to deal with the declining growth and high inflation. 
"Absolutely, RBI has always maintained the balance between growth and inflation," Mr. Rajan said, adding that the central bank would continue to do so. 
On the Current Account Deficit (CAD), which sharply narrowed to 1.7 per cent of GDP in 2013-14, Mr. Rajan said, "yesterday's number was very healthy". 
When asked about easing of curbs on gold imports, the Governor said, "You will see policies as they are rolled out".