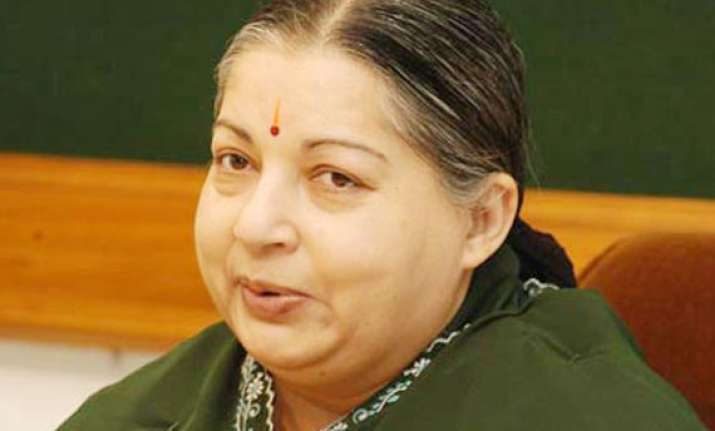 Chennai: Flaying the Centre for 'steeply' increasing the explosive storage license fee, chief minister Jayalalithaa today demanded that Prime Minister Manmohan Singh immediately withdraw User Fees Notice (Explosives) and ensure customs officials prevent smuggling of Chinese fireworks, enabling the industry operate on a level playing field.
"This is an act bereft of any understanding of the etiquette of parliamentary democracy and also constitutes a violation of Model Code of Conduct," she said in a letter to Singh. Pointing out that Tamil Nadu supplies more than 80 per cent of the total fireworks in the country and the industry provides employment to lakhs of people, she said manufactures in the state are on indefinite strike from Apr 9, protesting against certain steps taken by the Central Government.  
The CM said the domestic fireworks industry was "gravely" affected due to lack of "effective" action by the Centre and also due to smuggling of Chinese made fireworks into India, which use raw materials that are banned in India. Recalling that the Home Affairs Ministry had written to States highlighting the danger of smuggled Chinese fireworks and the need to deal strictly with those found with it, she said inclusion of fees for licensing import fireworks in the User Fee Notice (Explosives) on Mar 20 has raised "serious apprehension" as it would facilitate easier fireworks imports.
"Not only is Government of India not acting sufficiently strongly against smuggling of unsafe and cheap explosives from China, but it is also acting against the interests of domestic manufacturers of fireworks in Tamil Nadu", she said. She charged the Department of Industrial Promotion and Policy (DIPP), under the Ministry of Commerce and Industry, with steeply increasing the rates for the explosives storage under the "User Fee Notice (Explosives)" . The explosives storage license fee has been increased 27 times and the fee for renewal of foreman (competency) license hiked by 30 times, she said.  
"I strongly urge you to immediately withdraw the User Fees Notice (Explosives) dated March 20, 2014 and also ensure Customs authorities act effectively to prevent smuggling of Chinese fireworks enabling the domestic fireworks industry to operate on a level playing field", Jayalalithaa said. She said the indefinite strike by the fireworks industry in the state has to be urgently and sensitively dealt with. "I am very surprised that the Government of India went ahead with issuing such a sensitive, policy order after the date for the announcement of Parliamentary elections",she said.