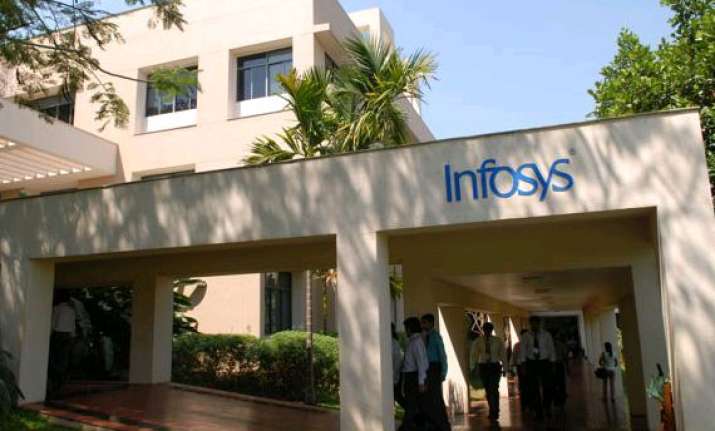 Mumbai: Shares of Infosys on Tuesday rose nearly five per cent after the company reported 25 per cent increase in net profit for the quarter ended March 31, 2014.
The scrip of the country's second largest software services firm opened the day on a positive note and further gained four per cent to Rs 3,371.80 at the BSE. At the NSE, the scrip surged 4.72 per cent to Rs 3,388. The stock was the top gainer among the 30 bluechip Sensex components during the morning trade.
"Infosys results were good and better than market expectations. But revenue guidance forecast was slightly below expectations," said Ashika Stock Brokers Research Head Paras Bothra. Infosys on Tuesday reported 25 per cent jump in net profit at Rs 2,992 crore for the quarter ended March 31, 2014, as compared to Rs 2,394 crore in the same period last fiscal.
The company's revenue for the reported quarter was up 23.2 per cent to Rs 12,875 crore from Rs 10,454 crore in the year-ago period. The Bangalore-based firm, which is on a revival path following the return of its co-founder N R Narayana Murthy at the helm of affairs, has forecast a conservative outlook of 7 to 9 per cent revenue growth in dollar terms for the financial year 2014-15.
Infosys has guided a revenue growth of 7-9 per cent (in dollar terms) next year and remains firmly focused on building the growth momentum by making all the necessary investments in its business, he added.
Meanwhile, buying was also seen at other IT counters, where TCS was trading 1.49 per cent higher, Wipro rose by 1.17 per cent and HCL Tech was up 0.98 per cent. Tracking gains in these stocks, the BSE IT index was trading 1.91 per cent higher at 9,003.90 and was the top gainer among the 13 sectoral indices.