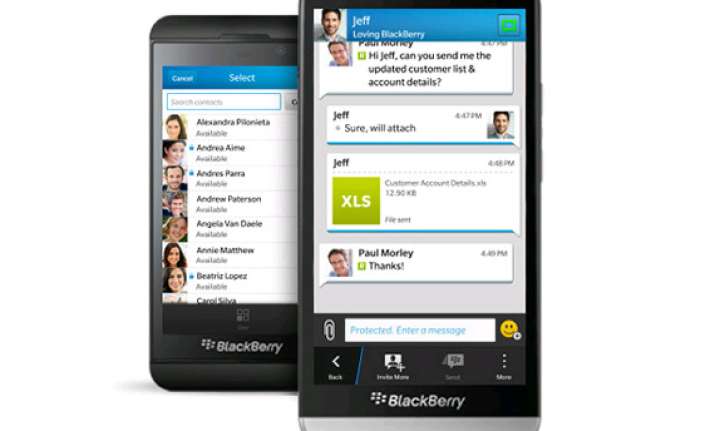 New Delhi: BlackBerry has beefed up security on its BlackBerry Messenger software in order to hold on to some of its core enterprise customers.
The Canadian company has started rolling out the BBM Protected, a secure enterprise-messaging tool within its eBBM suite. BBM is a popular instant-messaging application used by BlackBerry owners that runs over the company's BlackBerry Enterprise Servers. 
Originally announced earlier this year, BBM Protected lets users to communicate securely with colleagues and chat with friends and family from the same app. 
The move is seen as an attempt by the struggling handset maker to stay alive as it has lost huge market share and faces stiff competition from Apple's iOS and Google's Android operating systems. The company is moving towards maintaining relationships with its core business customers, especially those in big regulated industries and government agencies. The BBM Protected software is meant to appeal those customers.  
This is especially important for BlackBerry customers in regulated industries, such as banking, healthcare, law firms, and others, because it ensures that mobile IM is fully protected, the company said. 
"Security-conscious organizations are caught between a rock and a hard place today when it comes to secure IM" Jeffrey Gadway, head of product and brand marketing for BBM, said in a blog post. "Many consumer IM apps don't meet the security needs of IT while the enterprise IM apps deployed by IT leave end users seeking more utility and a better mobile experience. No secure IM apps have managed to meet the needs of both IT and end users - until now." 
The company now claims that it is the only mobile messaging service to use the FIPs 140-2 validated cryptographic library, which is a US government computer security standard used to accredit cryptographic modules. 
The new service will be available for all BlackBerry smartphones running its BlackBerry 6+ and BlackBerry 10 operating systems.