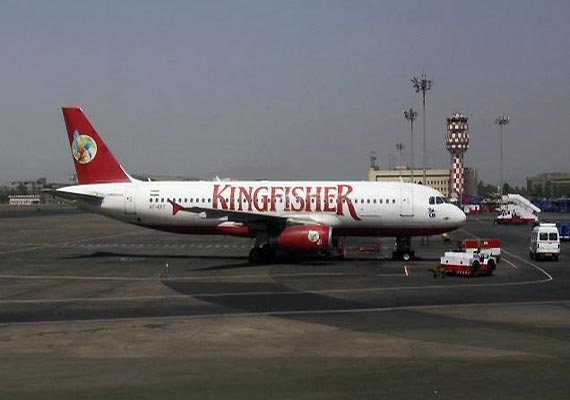 New delhi, Mar 20: Kingfisher Airlines today decided to suspend all international flights from March 25 and further curtail domestic operations even as Government warned the ailing carrier that its flying licence can be cancelled if it failed to meet safety norms.
"We have decided to suspend our international operations as we are not on IATA platforms. So, there is no sense flying abroad,"  Mallya, who was summoned by the DGCA, told reporters in New Delhi.
Kingfisher will not operate its international flights in the summer schedule starting from March 25, airlines sources said.
Mallya, who had a nearly 90-minute meeting with the aviation regulator to brief them on the present situation of the beleaguered airlines, said, "we are not going with any ambitious target. We will be operating flights with 20 aircraft."
Mallya said he had told Director General of Civil Aviation E. K. Bharat Bhushan that there would be no disruptions and "schedule integrity will be maintained".
Ahead of the meeting, Civil Aviation Minister Ajit Singh put the onus on  Mallya to maintain its operations and adhere to the schedule even as government constituted a special team to check whether the aircraft used by the airline were safe.
He said Kingfisher Airlines has not paid salaries to its employees, cleared dues to oil companies and to the Airport Authority of India.
"Also they have failed to stick to their schedule. They have revised their schedule 2—3 times but they have failed to adhere to it. DGCA is checking on the passenger safety aspect whether the planes are safe and pilots were in good condition," he told reporters.
"If he gives a plan and says I have that many planes, that much schedule, then why should we cancel?"  Singh said.
"The problem is, last two-three months, he has given several plans and he has not adhered to any of them,"  Singh said, adding, "If passenger safety is compromised we'll not let any airline fly. Safety norms also involve financial viability."
He said if the DGCA gives a report that safety cannot be assured in Kingfisher operations then certainly Government will take action.
DGCA is mulling cancellation of Kingfisher's flying permit after the airline submitted to it the summer flight schedule with 15 to 16 aircraft as against 28 planes submitted last month.
Kingfisher has a total debt of about Rs. 7,057 crore and accumulated losses of about Rs. 6,000 crore.
Around 60 accounts of the airline have been frozen by the tax authorities for its failure to pay taxes after levying it from the passengers.
"The airline not only lacks aircraft, they also lack funds for day-to-day operations. They are failing to meet their flight schedule, causing inconvenience to the passengers and also they failed to give salaries to their employees for past four-five months," official sources said.