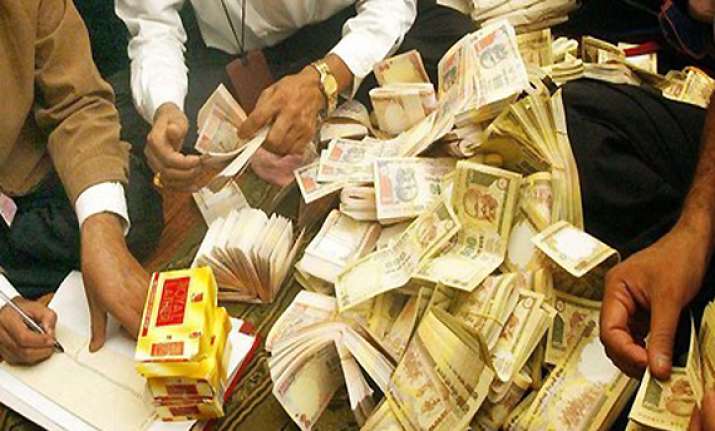 Mumbai, Nov 25: Pakistan's  spy agency, the Inter-Services Intelligence (ISI), has been raking in an annual profit of around Rs. 500 crore by circulating counterfeit notes in India, according to a presentation made by ministry of finance officials to a select group of police officers this month, reports the business newspaper Mint.

The presentation  was based on a report prepared jointly by the Intelligence Bureau, the Research and Analysis Wing, the Directorate of Revenue Intelligence and the Central Bureau of Investigation.

ISI has been making a profit of 30-40% on the face value of each counterfeit Indian currency note produced in Pakistan, according to the presentation.

The cost of printing Rs. 1,000 counterfeit notes, for instance, is Rs. 39 a piece (the Reserve Bank of India (RBI) spends Rs. 29 to print a Rs. 1,000 note), but it is sold at Rs. 350-400, according to the presentation.

The total number of fake notes that came into India in 2010 from abroad was pegged at Rs. 1,600 crore, and going by this estimate, the report pegged the total profit figure at Rs. 500 crore.

According to the annual report of India's central bank, 435,607 counterfeit notes were identified in fiscal 2010-11—up 9.4% from fiscal 2008-09.

The number of counterfeit notes detected by the Reserve Bank of India in 2008-09 was 398,111, and 401,476 in 2009-10.

The annual report, however, does not give an estimate of fake currency notes circulating in the country.

The Mint report says,  four in every 1,000 currency notes in circulation in India are fake, amounting to as much as Rs. 3,200 crore in 2010, citing a confidential government report that alleged that Pakistan government officials were directly involved in the process of making and distributing large numbers of fake notes.

A senior government official told Mint  most of the counterfeit Indian currency notes seized by the enforcement agencies over the last few years have been of a higher denomination.

"Printing of high-quality fake currency of a higher denomination is helping counterfeiters earn a huge profit, which is being used to fund terror operations in India, besides destabilizing country's economy," the official said.

According to this official, earlier most of the fake currency notes used to enter India through the India-Pakistan border, but now these fake notes are being routed through Dubai, Nepal and Bangladesh.

Experts also say the number of fake notes in circulation is rising and is a cause of concern.

Madan Sabnavis, chief economist at rating agency Credit Analysis and Research Ltd, said fake currency is a major issue from the point of view of "detection" and "surveillance cost.

According to him, fake currency increases the quantum of black money in the country and innocent citizens could get caught using fake notes without being able to detect their authenticity.

"At the macro level, fake money generates transactions that are illegal and gets assimilated in the system. As the quantum increases, monetary policy becomes difficult as these transactions are not recorded and are not a part of money supply.

"Given a money multiplier of 4.75 between reserve money and money supply, Rs. 100 crore of fake money will generate fake money supply of around Rs. 475-500 crore, which is serious,'' Sadnavis said.

To counter the menace of counterfeit currency, RBI has devised a plan with the Union home ministry that entails having nodal police stations in every district to track fake notes, its annual report said.