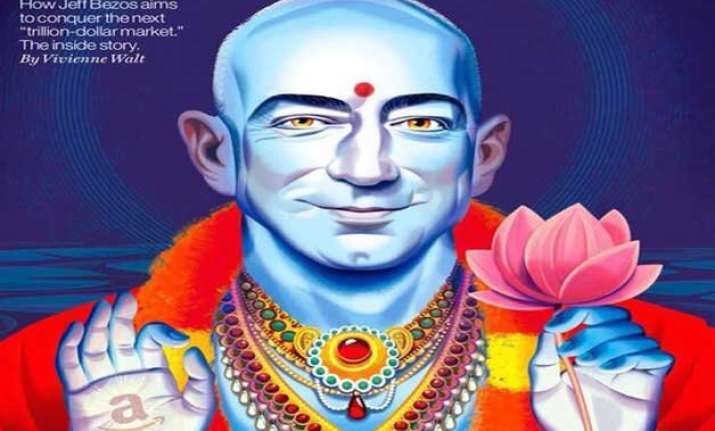 Fortune magazine has waded into controversy after the cover of its January edition featured Amazon CEO Jeff Bezos as Lord Vishnu, complete with a lotus in one hand and the Amazon logo on the other palm.
 
This is the second run of controversies of a magazine featuring an individual as the highly revered Lord Vishnu. An October 2013 cover of Indian business magazine Business Today featured popular Indian cricket captain Mahendra Singh Dhoni's morphed photograph as the 
deity. Dhoni faces a non-bailable arrest warrant for probably no fault of his. 
 
The cover story in Fortune's latest edition, titled 'Amazon Invades India' is an inside account of how Bezos' Amazon aims to conquer the next 'trillion-dollar market' – its spending, strategies and the challenges it faces etc. The story also explores the e-commerce landscape in India – the Indian players, their approach, offerings in competition with its Indian peers etc. 
 
The story further goes on to give a detailed account of Bezos' worries about Amazon's India foray, especially in view of the mistakes it made in China in terms of underestimating the competition.   
 
However, the magazine probably forgot to factor in the religious sentiments of Indians; although it did a pretty good job at underlining other peculiarities like the lack of access to banking, trouble negotiating through the roads and even "dodging cars and rickshaws, women in saris, and the occasional cow". 
 
The illustration on the magazine's cover featuring Amazon chief Bezos as Lord Vishnu has clearly not gone down well with the Indian community. Rajan Zed, a Hindu statesman in Nevada said that the cover illustration had upset Hindus as it trivialised the venerated Hindu deity. 
 
"Lord Vishnu was a highly revered major deity in Hinduism meant to be worshipped in temples or home shrines and not to be used indecorously or thrown around loosely in reimagined versions for dramatic effects," a press release notes.
 
The cover was brought to attention by Anil Dash - an entrepreneur and technologist who posted a series of tweets after artist Nigel Buchanan released its first look. 
Following the displeasure, Editor Alan Murray tweeted an apology in response. "Fair point, Anil.  Apologies to those offended," he wrote in response to a series of tweets by Dash. In a separate statement on the Fortune website, Murray further clarified that neither the artist nor the editors had any intention of parodying the Hindu deity. The web version of the cover story, however, features a different image.