Follow us on New Delhi: Finally we got to witness the three Khans- Salman, Aamir and Shah Rukh together at none other than the most awaited celebration of Aap Ki Adalat completing 21 years.
We already told you that this will be the event that guarantees the three Khans under one roof and see we are proven right. While the event witnessed noted personalities for cinema, politics among other big industrialists, it was indeed the three Khans stealing the limelight all the way.
#21YearsofAapKiAdalat not only was a memorable but it was indeed an epic occasion which did the undone and unthinkable. The three Khans' union has already started making headlines all over, but we have got some inside news for you.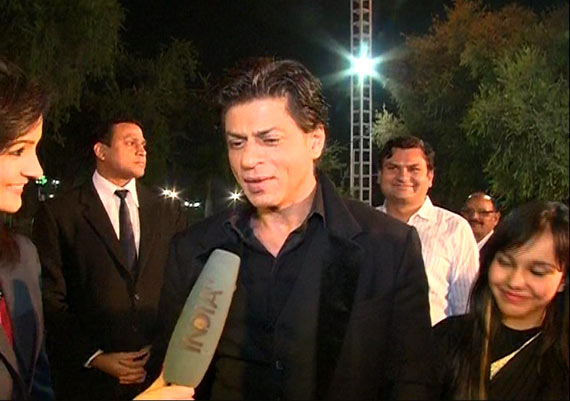 King Khan, Dabangg Khan and Mr Perfectionist not only set the excitement level soar higher, they also brought a gift for Aap Ki Adalat host Rajat Sharma.
Yes, surprise gifts, which none would have thought of. First of all it was the 'Chennai Express' actor Shah Rukh Khan who brought a 'lungi' for Rajat Sharma. Next was Salman Khan who gave a towel to the India TV Chairman.
At last it was Aamir actor and guess what he had in store for Mr. Sharma. Well, it was his (in) famous transistor he wore for his upcoming PK.
Now after the three Khans were done presenting their unusual gifts to Rajat Sharma, it was now time for some dance and 'masti' on stage. Indeed it was the towel dance performed by the trio and the man of the evening Rajat Sharma, which made the audience burst into laughter.
Not that all the four were provided individual towel as a prop but it was one single yet a long one, which rolled in all four of them together. It was a never seen before dance troop of four, which made the audience go crazy.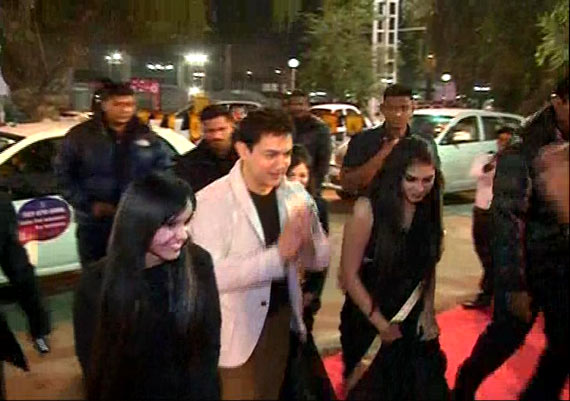 Well, we got more than what we expected earlier and yes the history is made. The complete event will be telecasted on 7th December at 10 pm onwards on India TV and Star Plus.