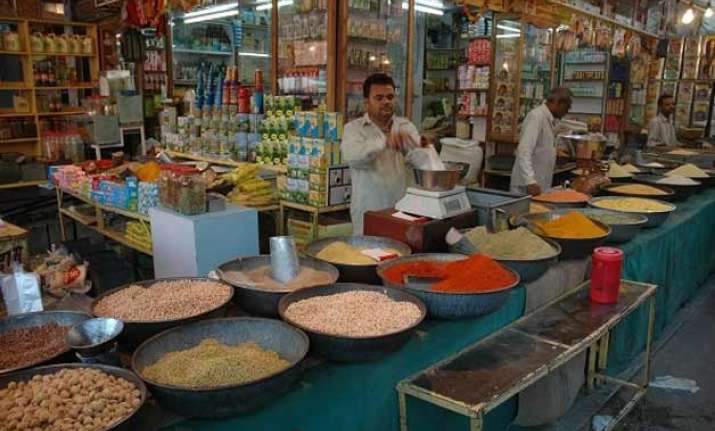 New Delhi: Two crucial data released by the government this week do not offer a very encouraging picture of the India economy. Data released for the annual wholesale inflation rate show an upward movement to (-)0.73 per cent for December against (-)1.99 per cent for the month before. Though the figure portrays an easing of the deflationary trend, it also articulates the fact that food articles, mainly vegetables, have turned costlier.
This is, however, the 14th straight month since November 2014 when the wholesale inflation has remained in the negative zone. The Wholesale Price Index-based inflation has been rising for the last four months and was (-)1.99 per cent in November. In December 2014, it was (-)0.50 per cent. Food inflation shot up to 8.17 per cent in December as against 5.20 per cent in the previous month.
Another set of data released by the Central Statistics Office (CSO) this week noted a 3.2 per cent decline in the month of November when compared to the corresponding period of 2014 when it grew at 5.2 per cent. The contraction was mainly due to a sharp decline in the manufacturing sector, which constitutes over 75 per cent of the index.
Significantly, this was also its worst performance since October 2011 when IIP had contracted by 4.7 per cent. The industrial production growth in October was slightly revised upwards to 9.9 per cent from provisional estimates of 9.8 per cent released last month.
Meanwhile, inflation in pulses and onion stood at 55.64 per cent and 25.98 per cent respectively. The rate of price rise in case of vegetables was 20.56 per cent during December and for fruits it was 0.76 per cent.
The rate of price rise in potato was (-)34.99 per cent while in egg, meat and fish, it was 5.03 per cent. Inflation in fuel and power segment was (-)9.15 per cent and for manufactured products, it was (-)1.36 per cent in December.
Inflation for October has been revised to (-)3.70 per cent from the provisional estimate of (-)3.81 per cent.
Crucially, the WPI figures will put the Reserve Bank of India under greater duress over further reduction of key lending rates as industrial production contracted by 3.2 per cent in November, its sharpest decline in four years.
Governor Raghuram Rajan had earlier noted that the bank will carefully look into the latest data on industrial production and come out with a "reasoned response".
Besides IIP, the central bank also looks into retail inflation data while firming up its monetary policy stance.
Retail inflation has been rising for five straight months and stood at 5.61 per cent in December. RBI's next bimonthly policy review will be unveiled on February 2.