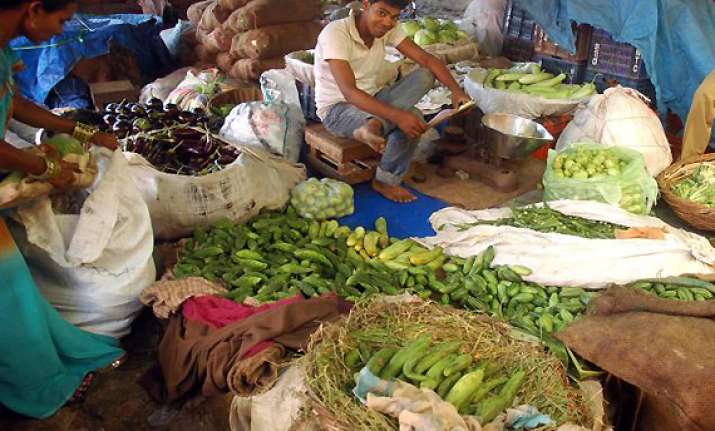 New Delhi, Dec 14: Cheaper onion and potato pulled inflation down to 9.11 per cent in November, but the Reserve Bank has a tough task ahead of controlling prices without hiking rates as industrial ouput has contracted.

Inflation, as measured by the Wholesale Price Index, stood at 9.73 per cent in October. It was 8.2 per cent in November last year.

Prime Minister's Economic Advisory Council (PMEAC) C Rangarajan said with inflation still ruling above 9 per cent mark, RBI should continue focusing on taming high prices.

"According to latest (inflation) numbers, it is still above 9 per cent. Therefore, concerns regarding inflation cannot be taken away from the monetary authorities," he said.

Planning Commission Deputy Chairman Montek Singh Ahluwalia said, "the Finance Ministry and the RBI should take a call to tackle inflation, (and) to revive economic growth." Now with inflation dropping, though marginally, all eyes are on the RBI's monetary policy review scheduled for December 16.

The central bank has hiked key policy rates 13 times since March, 2010, to bring down rising prices. In the last review, it had indicated that there could be a pause in rate hikes if inflation situation improves.

Industry bodies CII and FICCI said since inflation situation has improved, it is high time RBI should soften its anti-inflationary stance.

Industry has maintained that RBI's tight monetary policy regime is hurting investment and industrial production, which declined by 5.1 per cent in October.

FICCI President Harsh Mariwala said, "The easing in the annual rate of inflation for November provides the ideal foil for RBI to soften its anti-inflationary stance in the forthcoming monetary policy review".

CII Director General Chandrajit Banerjee the moderation in the primary articles segment is welcome as it has a cascading impact on the prices of finished goods.  Inflation in primary articles segment witnessed a significant drop to 8.53 per cent in November from 14.67 per cent in the same month last year.

Similarly, it moderated in the food articles front to 8.54 per cent from 10.14 per cent in the November 2010.

While prices of vegetables as a whole soared in November, the rate of price rise in potato and onion slowed in comparison to the same month last year.  Fruit prices rose at a lower rate of 7.29 per cent and milk at 10.91 per cent.

However, November inflation in manufactured products increased to 7.7 per cent from 5.02 per cent year-on-year.

Aditi Nayar, an economist with ICRA, said rise in inflation related to non-food manufactured products indicates the persistence of inflationary pressure.

On monetary policy, Kislay Kanth, Senior Director (research) MAPE Securities said the central bank will find it tough to change its stance on interest rate driven monetary tightening to contain inflation.

The data further revealed that inflation in fuel and power segment increased from 14.79 per cent in November from 11.02 per cent in the same month last year.