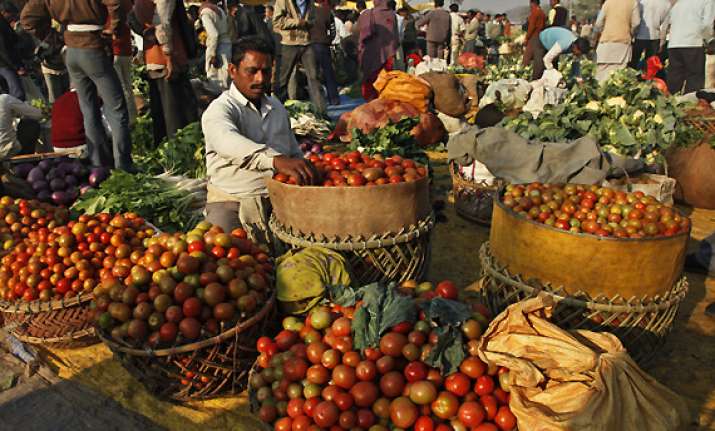 New Delhi, Jan 16: Cheaper food items pulled down headline inflation to a two-year low of 7.47 per cent in December, 2011, but this may not be enough for the Reserve Bank to slash key interest rates as rising prices of manufactured items remain a cause for concern.

Having remained perilously close to the double-digit mark throughout 2011, WPI inflation experienced a significant moderation only in December, declining from 9.11 per cent in the previous month. It was 9.45 per cent in December, 2010.

"Manufactured inflation and inflation in the power group of items have also declined, though only marginally, (and) therefore, continue to be a cause of concern," Finance Minister Pranab Mukherjee said.

He, however, expressed optimism that headline inflation would moderate to 6-7 per cent by March-end, on account of the moderation in food prices.

The latest numbers are the lowest since December, 2009, when headline inflation stood at 7.15 per cent.

"The RBI, while framing its monetary policy, will have to take into account not only the decline in food inflation and headline inflation, but also factor in manufactured inflation," Prime Minister's Economic Advisory Council Chairman C Rangarajan said.

As per official data released today, food prices rose at a lower rate of 0.74 per in December, compared to 8.54 per cent expansion in the previous month.

During the month, prices of vegetables, particularly onions and potatoes, fell sharply by between 30 per cent and 60 per cent on an annual basis.

However, inflationary pressure continued in manufactured items, which which have a weight of around 65 per cent in the WPI basket. Prices of manufactured products, went up by 7.41 per cent year-on-year in December, as against 7.70 per cent in the previous month.
Inflation in the fuel and power segment stood at 14.91 per cent on an annual basis in December, as against 15.48 per cent in the previous month.

Meanwhile, the inflation numbers for October, 2011, have been revised upward to 9.87 per cent from the provisional estimate of 9.73 per cent.

"Where people were saying that inflation is a big problem and requires monetary tightening, now RBI will have more flexibility to stimulate GDP growth," Planning Commission Deputy Chairman Montek Singh Ahluwalia said.

The apex bank is scheduled to conduct its third quarterly review of the monetary policy on January 24.

"The RBI is expected to leave the repo rate unchanged in the upcoming policy review," ICRA Economist Aditi Nayar said, citing continued pressure on prices of manufactured items.

Headline inflation in the country has been above the 8 per cent-mark since January, 2010, while it has remained above 9 per cent since December of the same year.

The apex bank hiked key policy rates 13 times between March, 2010, and November, 2011, to tame inflation.

India Inc has said the string of rate hikes, which have raised the cost of borrowing, have acted as a dampener to fresh investment and hindered growth.

Economic growth stood at 6.9 per cent in the July-September period of 2011-12, the lowest in over two years.

The RBI took a pause on its rate hike strategy at its latest mid-quarterly policy review in December last year and hinted that it might start loosening the tight monetary policy if inflation falls. It had projected inflation to fall to 7 per cent by March this year.

"I think the RBI will hold the rates for some time and any interest rate cuts are only expected from April. However, it may go for a reduction of 50 basis points in the Cash Reserve Ratio on January 24," Standard Chartered Head of Research Samiran Chakrabarty said.