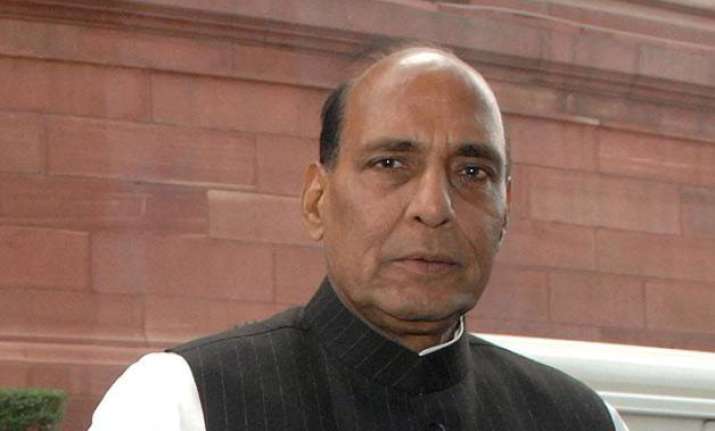 Lucknow: Union Home Minister Rajnath Singh yesterday termed as "painful" washout of monsoon session of Parliament and said due to which important legislations could not be passed and expected boom in economy could not be achieved.
"When we came into power economic situation was not very good and global recession was one the major reasons, but after coming to power we took a number of steps," Singh said while addressing an event here.
He said due to these steps reputed rating agencies had said that growth rate of Gross Domestic Product of the country would reach 8.5 per cent.
"I accept that boom which was expected in the economy did not happened. Due to disruption in Parliament, GST bill which we wanted to get passed, could not get through," he said.
The Home Minister said that the day GST would get passed, the jump in the economy would be visible with in a few days, it was so important.
"There are number of policy decisions due to which people will witness boom in the economy. We are confident about it. We are not saying that only on the basis of heavy industries or big projects, but also keeping in view the economy of villages and skill development of youths," he said.
Referring to devaluation of its currency by China, Singh said, at times there were decisions which affect the neighbouring countries.
"When China sensed that its export was declining it devaluated Yvan, but we are optimistic about the economy as far as India is concerned," he said.
The union minister said earlier when domestic investors were not ready to invest, the situation has taken a turn so much so that now even foreign investors were willing to invest, adding that several MoUs have already been signed.
"Parliament could not function this time was painful situation. Whatever the issue was, whether it's right or wrong, if the treasury bench is ready for debate, then its the responsibility of opposition must discuss it and if some fact emerge then action should be demanded," he said.
He said that it was an irony that mindset has not charged even after so many years of independence.
Singh said that Prime Minister Narendra Modi took a number of important decisions like Jan Dhan Yojna and pension to all scheme.