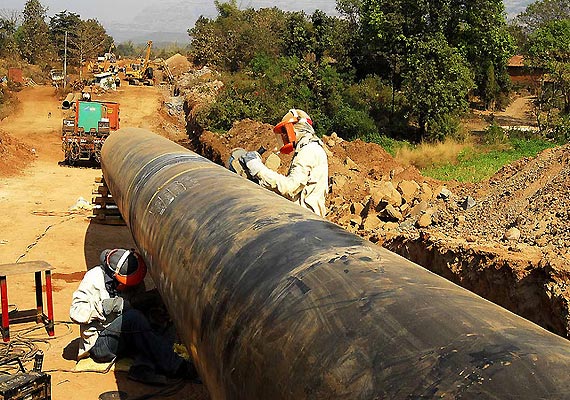 New Delhi, Mar 21: After fuel, India is offering to export natural gas to Pakistan to help the neighbouring country tide over its gas crisis.
State-owned GAIL's just commissioned natural gas pipeline from west coast to Bhatinda in Punjab is barely 25-km away from Pakistan border and the gas utility is proposing that the line can be extended to Lahore in no time, sources privy to the development said.
GAIL plans to import liquefied natural gas or LNG (natural gas that has been liquefied at sub-zero temperature and shipped in cryogenic vessels) at Dahej or Hazira import terminals in Gujarat. It plans to move this gas through the Dahej-Vijaipur-Dadri-Bawana-Nangal-Bhatinda pipeline to Punjab and then into Pakistan.
But before a formal proposal is made to the Pakistani side, it needs the blessing of the Ministry of External Affairs, sources said.
Pakistan may experience its worst gas crisis in 2016 when shortfall is expected to hit 3.021 billion cubic feet per day as supply-demand position deteriorates, the State Bank of Pakistan had said in December last year.
Unlike India, Pakistan has till now not built a LNG import terminal and so buying gas from GAIL pipeline may make economic sense for the Islamic nation.
Gas supply in Pakistan at around 5.497 bcfd in the year to June 30, 2012 is short of demand by 2.458 bcfd.
Supplies, according to the State Bank of Pakistan, are likely to increase to 6.354 bcfd in 2015-16 but the deficit will expand further to 3.021 bcfd.
Sources said a LNG terminal will take a minimum of four years to build while the GAIL pipeline can be expanded into Lahore within months.
India had previously offered to sell petrol, diesel, jet fuel (ATF) and fuel oil to Pakistan and had planned to build pipelines to transport the products but Islamabad has not yet responded to the proposal.
Sources said Pakistan can afford not to buy liquid fuel from India as it can import them from the Middle East. But it can ill-afford to ignore India's proposal on gas exports as shortfall has led to daily power outages and riots and caused factories to shut down.
GAIL is an equal partner in 10 million tons a year import facility at Dahej while Shell and Total of France operate a 3.6 million tons terminal at Hazira.
A third terminal is being build at Mundra in the state while GAIL's Dabhol plant in Maharasthra will go on stream next week. Dabhol too is connected with pipeline to Dahej and any LNG imported at the terminal too can find its way into Pakistan, they said.
Most affected is the Pakistan's textile industry, which contribute 60 per cent to the country's total export earnings.  The nation's textile exports may miss the USD 16 billion target by 25 per cent this year.
About 53 per cent of Pakistan's energy comes from natural gas, 30 per cent from oil and the rest from coal, nuclear and hydropower, according to BP.
Pakistan and India are pursuing gas imports from Iran and Turkmenistan but the multi-billion dollar pipelines that are to transport the fuel are yet to get off the ground because of security concerns of such transnational pipelines.