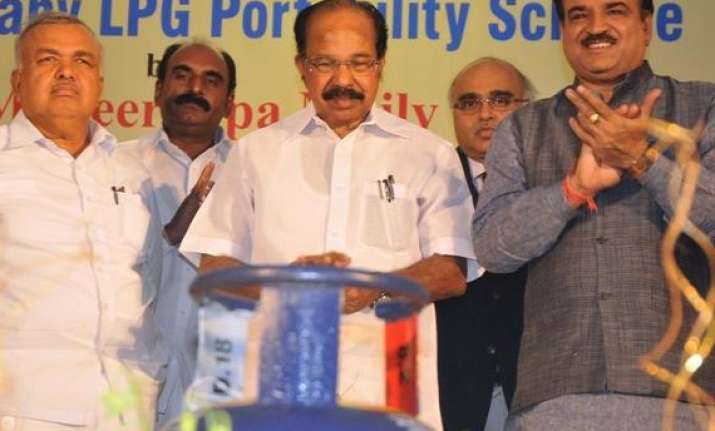 New Delhi: In an 'LPG for all' initiative, Union Petroleum and Natural Gas Minister Dr. M. Veerappa Moily on Saturday launched the 5 kg LPG cylinder at cash and carry basis which will be available at petrol stations. He also kicked off the portability of LPG connections in 24 cities across the country, which include Bangalore and Hubli in Karnataka.
"This is a very very revolutionary scheme. Particularly in metropolitan cities 30 to 35 percent of the population consists of the migratory population, may be the students, professionals or the labourer. These are all the people who can take advantage of it. And it will be easily available and accessible," he said.
"Portability of LPG connections is again revolutionary that means even if you don't get the cylinder you can choose your own agency," he said.
Currently, OMCs are marketing LPG filled cylinders to various customers through LPG distributor network all over India from their own LPG bottling Plants supplied to the Distributors godown.  
All such customers are being enrolled by collecting Proof of Identity (POI), Proof of Address (POA) and a deposit for the cylinder and regulator and in turn issuing a Subscription Voucher thereby loaning the equipment to the customer in lieu of the deposit received.  
Such customers are registered into OMC database as customers and subsequent refills are issued to only such customers who place their booking against the above customer number.  The cylinder is home delivered by LPG distributor in case of regular distributors and in case of RGGLV it is on Cash and Carry basis. 
There is an emerging segment of new consumers like IT professionals, BPO employees who want LPG but in absence of proper proof of address (POA) cannot access the same.
This initiative allows sale of 5 kg LPG cylinders at market price with merely any Proof of Identity (POI) through Company Owned Retail Outlets (Petrol Stations) to attend to demand of such consumers.
The Sale of 5 kg cylinders will be done (Equipment + Product) at Non Domestic rates with /without regulator for the first time by charging Rs. 1000/- plus applicable taxes for the cylinder and Rs. 250/- plus applicable taxes for regulator. The cost of product and refills i.e. Cost of LPG will be as per non domestic rates applicable in the market.
The 5-kg cylinders would initially be sold through selected company-owned and company-operated (COCO) outlets of public sector oil marketing companies (OMCs) in 11 places — three in Bangalore, two in Mumbai, three in Kolkata and three in Chennai.
This scheme is expected to be a boon to migratory population such as students, IT professionals, BPO employees and persons with odd duty timings.