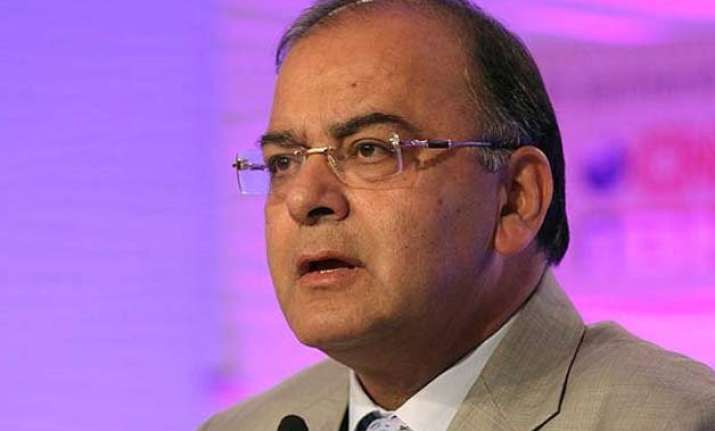 Washington: With the vast depth and size of its market, India's ability to absorb international shocks is far stronger as reflected in the rupee remaining relatively stable, said Finance Minister Arun Jaitley has. "International factors obviously have an impact. 
Considering the vast depth and size of the Indian market our ability to absorb those shocks is far stronger," said Jaitley when asked about the level of risk from the external environment given that the US Federal Reserve is poised to start raising rates this year.
"Even in the past, when international trends have been far more volatile, our dependence on our own domestic markets has made us relatively more stable than ever, and I won't call it threats or risks - if we continue with our own internal ability to carry on with our own reform process, is our strength," he said. 
"As long as we continue that, our ability to absorb various international possible scenarios would be reasonably high," said Jaitley in response to the question at the Peterson Institute for International Economics.
Jaitley said by and large, the strength of the Indian economy is also reflected in the fact that the rupee has remained relatively most within the stable range. "We do believe that the rupee will find its real value, or real strength in the international currency market, even when several currencies did face a serious challenge recently," said Jaitley. "It's been relatively more stable, even relationship with the dollar, with regard to most other currencies, it has strengthened in comparison," he added.
Talking about disinvestment, said Jaitley in terms of quantum of disinvestment public privatisation, the current government is way ahead of any government in the past. "In the year just concluded, my disinvestment target is the largest ever divestment in Indian history, and this year is going to be much more, if not twice as much as the last year," Jaitley said in response to a question.
"Therefor, certainly strategic disinvestment in some cases is a part of my agenda," said Jaitley. "Which are the companies I choose for it, we make this decision known at a later stage, but in terms of quantum of disinvestment public privatisation, we are way ahead of any government in the past," said Jaitley.