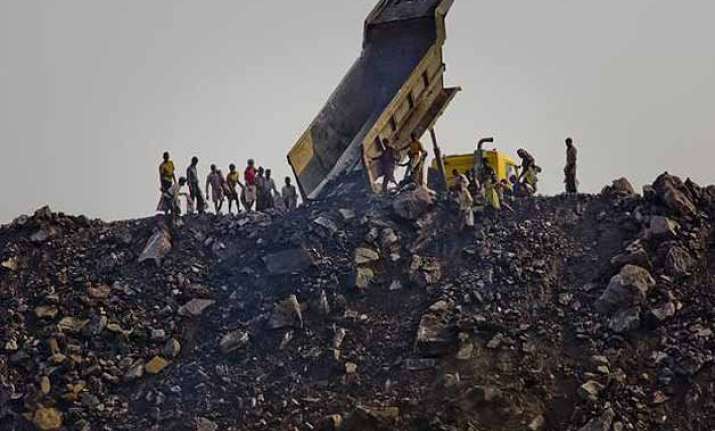 New Delhi: Hindalco Industries and Jindal Power have bagged one mine each on the third day of the second phase of the coal block auctions. Hindalco Industries has bagged Dumri mine in Jharkhand for an estimated Rs 9,809 crore, while Jindal Power won Tara block in Chhattisgarh for Rs 2,103 crore.
Bidding for Nerad Malegaon in Maharashtra is still on. "Hindalco highest bidder at Rs 2,127 (per tonne) for Dumri and Jindal Power at Rs 126 (a tonne) for Tara coal block," tweeted Coal Secretary Anil Swarup.
"Auction for Tara block, which is for power sector, began at 11 am with rupee one bid. For Dumri, the auction began at Rs 2,125 per tonne while for Nerad Malegaon it started at Rs 413 per tonne," an official told PTI.
There were eight players vying to grab Dumri block in Hazaribag district of Jharkhand with extractable reserves of 46.13 MT. The companies in the race to grab this block were - Balco, Easternrange Coal Mining Private Ltd, Hindalco Industries Ltd, Lakeview Dealtrade Private Ltd, Rungta Mines Ltd, Natural Resources Private Ltd, Sesa Sterlite Ltd and Usha Martin Ltd.
The mine was previously allotted to Nilachal Iron & Power Ltd and has preliminary forest clearance and awaits forestry clearance for mining lease.
A maximum of nine companies -- Adani Power Ltd, Adani Power Rajasthan Ltd, Adani Power Maharashtra Ltd, Athena Chhattisgarh Power Ltd, Jindal Power Ltd, JSW Energy Ltd, KSK Mahanadi Power Company Ltd, LANCO Amarkantak Power Ltd and RattanIndia Nasik Power Ltd -- were vying for Tara block in Surguja district of Chhattisgarh.
The block with extractable reserves of 166.92 million tonnes (MT) was previously allotted to Chhattisgarh Mineral Development Corporation. The third mine put on auction today - Nerad Malegaon in Yavatmal district in Maharastra has extractable reserves of 10.29 MT.
It was previously allotted to M/s Gupta Metallics & Power Ltd and M/s Gupta Coalfields & Washeries Ltd. Among the players in race for it are - Godawari Power and Ispat Ltd, Grace Industries Ltd, Indrajit Power Pvt Ltd, OCL Iron and Steel Ltd and Sunflag Iron and Steel Company Ltd.
In fierce bidding that lasted over eight hours, Mandakini Exploration and Mining on March 5 bagged Mandakini block in Odisha while the Meral mine in Jharkhand went to Trimula Industries, in the process fetching an estimated Rs 19,633 crore for the states.
Under the second leg of auction, the government has put 15 blocks for grab, which are under ready-for-production category. The auction proceeds from first lot of 19 mines is over Rs one lakh crore.
The government which was to begin the auction of second round of mines last month had to put it off to March 4 because of litigation issues.