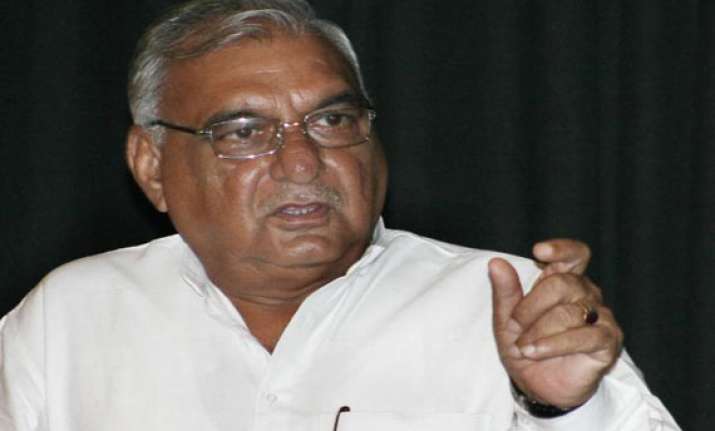 Chandigarh: Giving relief to the state's textile makers, the state government today slashed Value Added Tax (VAT) from 12.5 per cent to 5 per cent on range of textile, woollen and home furnishing items.
This VAT reduction would cost Rs 150 crore to state exchequer, state's Chief Minister Bhupinder Singh Hooda said here, according to an official statement.
The products on which the VAT has been reduced included pillow covers sold with bed-sheets, comforters, duvet covers, cushion covers, bolster covers and ready to use curtains.  
Similarly, the relief would also be applicable on textile products like bed-sheets, bed covers, bed-spreads, towels, table cloths, curtains, napkins, shawls, saris and ladies suits on which any valued addition work like knitting, embroidery work has been done, the release said.
Hooda also assured the traders who had called on him under the banner of Haryana Pradesh Vayapar Mandal to favourably consider their demand to give further relief in filling VAT-D 3 Form.
Hooda said after holding the reigns of the administration of the State Government in the year 2005, he has taken a number of decisions for the welfare of traders, be it the rice millers, dealers, cotton traders, tool retailers, corporate transport societies and auto rickshaw drivers.
He said the economic condition of any State depends upon the farmers and traders and if both of them remain prosperous the State will flourish.
While taking a dig at the previous INLD-BJP government, Hooda questioned if anyone could tell him any single step which they have taken in the interest of traders in the state.  
On the other hand, the present state government has taken a number of steps for their welfare, he said, adding that the state government has reduced the rate of tax to four per cent on 169 items, used in manufacturing sector.
Similarly, the traders paying annual tax of less than Rs 1 lakh have also been given exemption from filling tax returns.  Apart from this, the minimum limit of issuing cash memo has been increased from Rs 100 to Rs 300.
Hooda said that the State Government has also made a provision of tax return on direct and indirect export of paddy.
As per the Milling Policy of Kharif 2013, Rs 20 lakh per person was to be charged from rice millers for milling of paddy. But now it has been reduced to Rs 5 lakh, he said.  
Hooda said keeping in view the interest of the rice millers, the State Government has restored driage charges of one per cent of the Minimum Support Price (MSP) to the rice millers.
This has benefited the rice mill owners to the tune of Rs 200 crore.