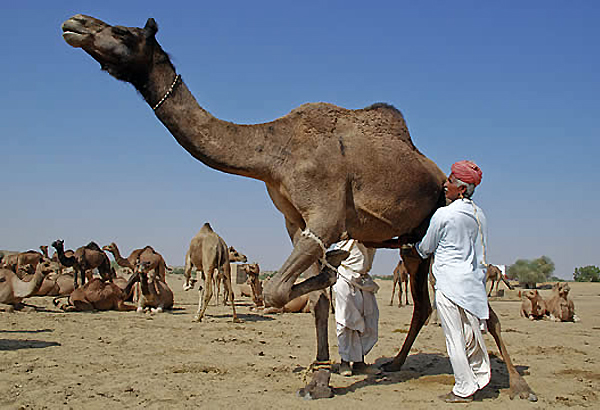 Ahmedabad, Mar 26: Gujarat will soon get its first commercial dairy, for processing of camel milk into various products, in Kutch district following necessary provisions made by the state government in the 2012-13 budget.
A proposal in this regard has been received by the government from the Kutch District Cooperative Milk Union or the Sarhad Dairy.

A local union of camel breeders Kutch Unt Uchherak Maldhari Sangathan (KUUMS) has been formed to develop milk collection networks, while a Kutch-based NGO Sahjeevan has been roped in to mobilise the camel breeders and spread awareness with regard to economic and nutritional importance of camel milk.

Also, the Gujarat Milk Marketing Federation (GCMMF) or Amul has agreed in principal for marketing of the camel milk which is high in nutrition and low in fat, a state government officials said.

"The government is planning to set up a dairy for commercial processing of camel milk, for which provision has been made in the 2012-13 budget," Director of Animal Husbandry Dr A J Kachhiapatel told PTI.

He said that a proposal for setting up a milk processing unit of capacity of 2000-2500 litres has also been received from Sarhad dairy.

This project has been taken up with two objectives— one to provide an alternative for income generation for the local community of cattle breeders or 'maldharis' and other to increase the use of camel milk which is high in nutritional properties, low in fat and easy to digest, Kachhiapatel said.

"Camel has been used for transportation in Kutch region since ages. Earlier the Maldharis used to get good income from the sale of male camels. But with the development in transportation means, sale of camels have decreased and so has their income," he said.

Hence to provide the Maldharis with alternative income, it has been planned to market camel milk, he added.

"We have completed the ground work of mobilising the Maldharis and creating network through the KUUMS for daily collection of camel milk which is the basic requirement," Kachhiapatel said adding that 349 maldharis have already registered with KUUMS.

According to Kachhiapatel, initially the milk will be processed at Sarhad dairy and packaging and marketing will be done by GCMMF. In the next stage the packaging will also be done at Sarhad dairy, he added.

Team leader of NGO Sahjeevan, Ramesh Bhatti said that they have started making ice-cream and Kheer (a sweet preparation made out of milk and rice) using camel milk and were selling it though a vendor in Kutch district headquarters Bhuj.

Talking about the NGOs role in this project, Bhatti said, "We have been mobilising the Maldharis and creating awareness among them for depositing camel milk at various collection centres."

Assistant Project Coordinator at Sahjeevan Kiran Patel said that these collection centers have been planned in Abdasa, Lakpat and Nakhatrana blocks which have large population of camels.

"Since Kutch is a large district transportation is a big problem hence the collection centres have been planned accordingly," Patel said.

He further said that there were around 10,000 camels in Kutch district and a female camel would give an average of four litres of milk every day after giving birth and which would gradually decrease over a period.

A study done by the Anand Agriculture university shows that the camel milk contained only 2.5 per cent fat, hence was easy to digest.

Further the camel milk had vitamin C in triple quantity as in cow or buffalo milk. Also, the camel milk has useful minerals like sodium, calcium, magnesium in higher quantity than in conventional milk.

The milk is also considered good for diabetics, heart patients, those suffering from tuberculosis and having intolerance to lactose, a form of sugar found in cow and buffalo milk.