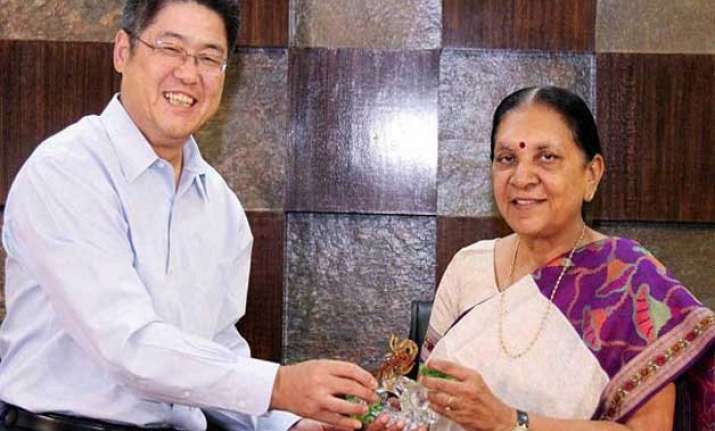 Ahmedabad:  Aiming to attract investment in the state, Gujarat Chief Minister Anandiben Patel today addressed business leaders of China during a roadshow in Guangzhou city of Guangdong province.  
Patel, who is on her first foreign tour as CM also witnessed signing of 12 Memorandum of Understanding (MoUs) between Gujarat and Guangdong province.  According to an official release, Patel today addressed over 100 business leaders of China at a Roadshow in Guangzhou city.
Aiming at collaborations across various sectors, 12 MoUs were also signed here, it said.
Later, Patel had high-level discussions with representatives of Guangdong Committee of the China Council for Promotion of International Trade (CCPIT), the release added.
In her address at Guangzhou Roadshow, Patel called for developing mutual cooperation in all spheres between provinces of the two nations.
To attract investment from China, she highlighted the achievements of Gujarat and termed it as one of the most progressive states in India.
In her address to Chinese businessmen, she identified sectors such as engineering, textiles, automotive and ancillary parts, chemicals, petrochemicals and renewable energy as areas of potential investments in Gujarat.  
Patel recalled Chinese President Xi Jinping's visit to Gujarat in September 2014 and stated that sister agreements were signed between Gujarat-Guangdong and Ahmedabad-Guangzhou in presence of Prime Minister Narendra Modi at that time.  
She further added that her visit to China will take these agreements forward.
Ahmedabad mayor Minaxiben Patel is accompanying the Chief Minister for the visit to Guangzhou.