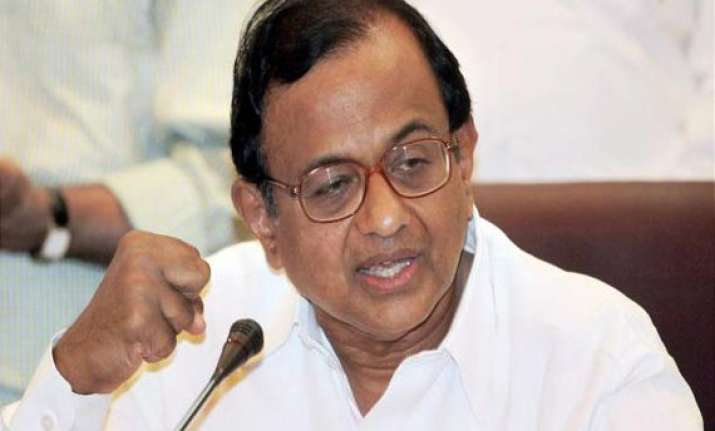 New Delhi, May 31:  Expressing satisfaction over declining fiscal deficit figures for 2012-13, Finance Minister P Chidambaram today said the government will focus on raising revenues to bring down deficit to below 4.8 per cent of GDP in the current financial year.
"I don't wish to compress expenditure, therefore revenues have to go up... For 2013-14, (we) have to do much better than 4.8 per cent," he told reporters here.
Chidambaram attributed the decline in fiscal deficit to about 4.9 per cent of GDP from revised estimate of 5.2 per cent, to additional tax revenues and savings on expenditure side.
"Many of the ministries could not spend money given in Revised Estimate. Also there was some additional tax revenue of about Rs 7,000 crore. So it has come down to 4.9 per cent (in 2012-13)," he said.
Committed to fiscal prudence, the government in the Budget had proposed to lower fiscal deficit to 4.8 per cent of GDP in 2013-14 and reduce it gradually to 3 per cent by 2016-17.
The government had budgeted revenue realisation for 2012-13 fiscal at Rs 10.38 lakh crore, while total expenditure was pegged at Rs 14.30 lakh crore.
The GDP growth in the current fiscal is projected to improve to 6.1-6.7 per cent, from 5 per cent in 2012-13.
According to sources, the government has been able to restrict the revenue deficit to 3.6 per cent of GDP in 2012-13, against 3.9 per cent estimated earlier.
Also non-tax revenues were higher by about Rs 8,000-10,000 crore besides savings on plan expenditure to the tune of Rs 6,000 crore, they added.
Deputy Chairman of Planning Commission Montek Singh Ahluwalia said investors would be reassured about India's commitment to contain fiscal deficit.