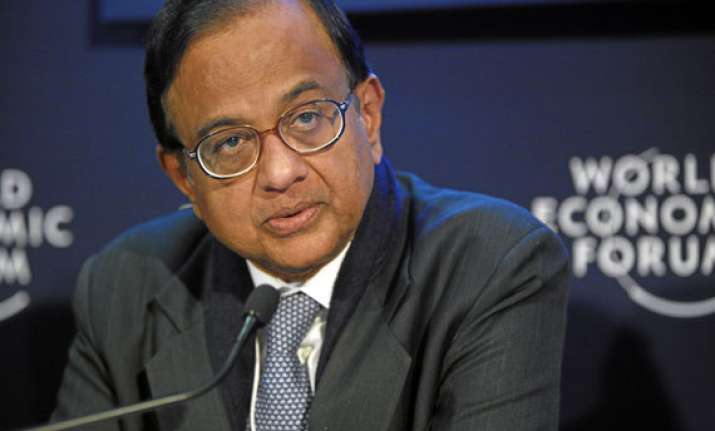 Srinagar: As the fiscal deficit numbers reached three-fourths of the budget estimate in the first five months of the fiscal, Finance Minister P Chidambaram has said the government is planning to trim non-plan expenditure to meet the fiscal deficit target of 4.8 per cent for the current financial year.
Attributing the government borrowing already touching 74.6 per cent to front-loading of government spending, he said, "the planned expenditure is running at around 4-5 per cent ahead of last year.
We deliberately front-loaded it. Now we are planning a compression in the non-planned expenditure." "All this will play out over the year. We don't look at it like a still photograph. Things will even out over the year and I am confident we will remain below the red line of 4.8 per cent," he said.
Chidambaram was talking to reporters on the sidelines of a J&K Bank function here late last evening.  Chidambaram also exuded confidence that the second quarter growth readings should be better than the previous three-month period when the economy clipped at a poor 4.4 per cent.
He was also asked whether the better than expected CAD numbers (4.9 per cent in Q1) and core sector growth in August at 3.7 per cent which is a seven-month high, showed the economic revival has started.
In his reply Chidambaram said: "It is too early to say all that. All I can say is that the core sector is showing growth, exports are showing robust growth. Credit growth to select industries is showing good growth."
"For example, credit to two-wheelers sales, small and medium enterprises sector, retail, all that is growing. I think it's too early to call it a victory yet, let us wait for a couple of months. But I am sure that the second half will be better than the first half," he said.
On the 4.9 per cent Q1 current account number, the Minister said it was exaggerated by the very sharp rise in gold imports in April and May and since then there was massive dip in bullion imports which will be visible in the second quarter numbers, that would be much better.