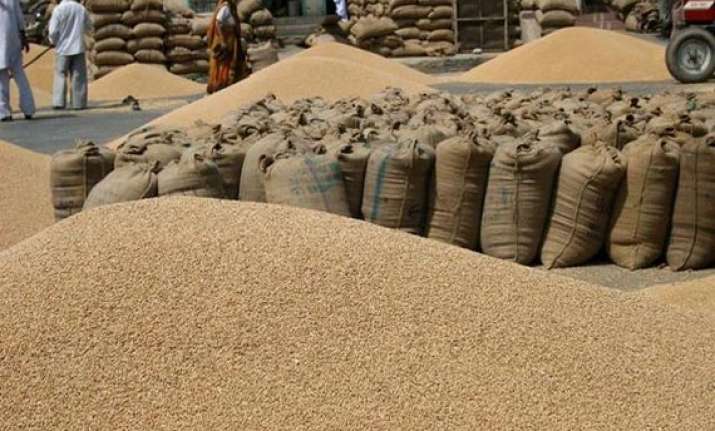 New Delhi: The government on Wednesday reduced the minimum export price of wheat by USD 40 per tonne to USD 260 per tonne as it found no buyer at the higher floor price of USD 300.
The Food Ministry had moved a Cabinet note proposing a reduction in the floor price of wheat to USD 260 a tonne from USD 300/tonne to make exports viable and clear surplus stock.
"Wheat export price of USD 260 per tonne has been approved by the Cabinet Committee on Economic Affairs (CCEA). We hope exports will be viable now and shipments will take place," Food Minister K V Thomas told the agency.
In tenders floated by MMTC, STC and PEC last month for export of 1.6 lakh tonnes of wheat, global buyers had quoted rates in the range of USD 260-267 a tonne against government's benchmark price of USD 300 a tonne.
STC, MMTC and PEC had got 11 bids, which were opened early this month.
In August, CCEA had approved 2 million tonne wheat exports from FCI godowns for the current fiscal subject to a floor price of USD 300 per tonne through STC, MMTC and PEC.
"Since the bids received were lower than USD 300 a tonne, the Committee of Secretaries has recommended a reduction in the floor price for wheat export to USD 260 a tonne," Thomas had said earlier.
In 2012-13 fiscal, the government had earned USD 1.4 billion from export of 4.2 million tonnes of wheat by PSUs. Indian wheat had fetched an average price of USD 311.38 per tonne.
FCI has a huge stock of rice and wheat in its godowns and it is under pressure to clear space for storage of new crop. As on October 1, FCI had a wheat stock of 36 million tonnes against the requirement of 21.2 million tonnes.