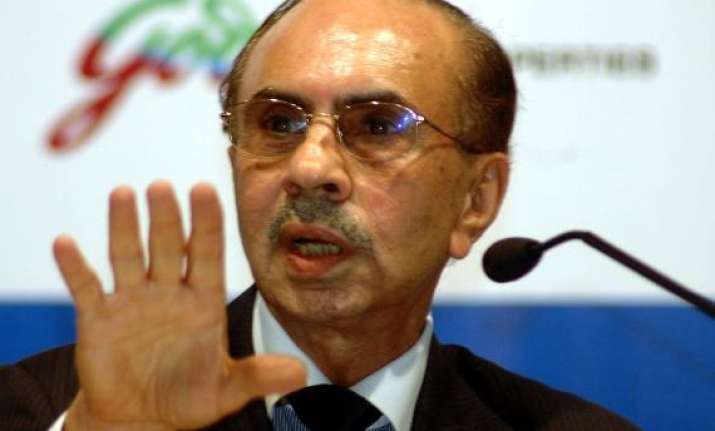 New Delhi, Aug 11: Godrej Industries on Saturday posted a 28.46 per cent growth in consolidated net profit at Rs 53.25 crore for the first quarter ended June 30, 2013, driven by strong performance in its agrovet business.
The company's consolidated net profit was Rs 41.45 crore in the corresponding period last year.
Income from operation on a consolidated basis grew by 3.55 per cent to Rs 1,879.81 crore during the reported quarter as compared to Rs 1,815.23 crore in the same period last year, Godre Industries said in a regulatory filing to stock exchanges.
"Bottom line grew very well because several of our businesses had excellent bottom lines, especially Godrej Agrovet. Godrej Agrovet is a major subsidiary. Its growth was excellent because of the good agri-season, on account of good monsoon.
"Also the introduction of our R&D based products have done very well in the market. The combination of new products and good agri-season has done very well. The sales increased by 27 per cent in Godrej Agrovet while the profits increased by 37 per cent," Godrej Industries Chairman Adi Godrej said.
The company expects the agri division to do well in the coming quarters and will be setting up additional five to six plants this year.
"We are expanding our capacities quite considerably. We are setting up a new chemicals plant at Ambernath. The capex for the Ambernath plant is about Rs 300 crore. We are also planning to set up several new factories at Godrej Agrovet. We are planning at least five or six new factories in Godrej Agrovet, including states like Bihar and Mizoram," he said without divulging the details on the capex for the agrovet business.
Revenue from chemicals segment decreased to Rs 288.23 crore this quarter from Rs 347.39 crore in the same period of last fiscal, but Godrej said the vertical would fare better after October.
"Chemical business has not fared too well because of the global slowdown. Also because of the raw material prices, the prices have also reduced," he said.
"We expect from October onwards, there will be a revival, because the global economy is reviving, also we expect the raw material prices reduction will steady, so we expect demand to grow," he added.
The company's real estate subsidiary Godrej Properties and its consumer division business Godrej Consumer Products also reported healthy growth during the quarter, he said.