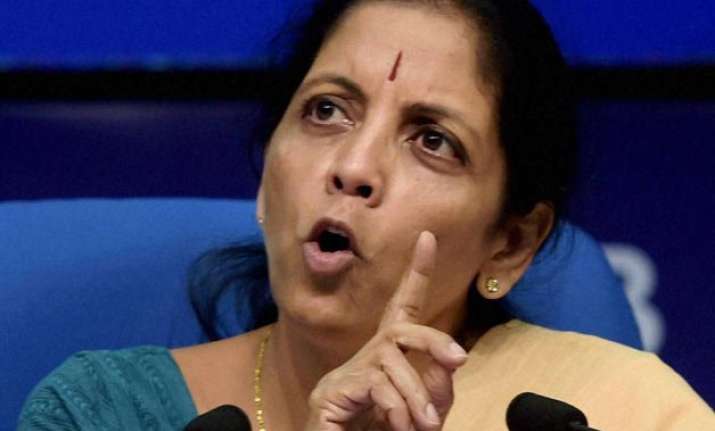 New Delhi:  After India clubbed categories of foreign capital flowing into domestic companies, Commerce Minister Nirmala Sitharaman on Monday said foreign institutional investment (FII) limits in the banking and defence sector have been retained at existing levels to prevent disruptions in sensitive sectors.
"In defence as regards the cap which prevailed for FII and in banking, particularly the private sector banking, on FIIs... in those two specific areas, specific sub-caps will prevail," she told reporters at an event here on trademarks, jointly organised by her ministry, the World Intellectual Property Organisation and industry chamber Ficci.
"We do not want fly-by-night operators or quick money coming in or going out," the minister said.
In a move to attract more foreign investment and simplify norms, foreign institutional investment, foreign portfolio investment, qualified foreign investment, and non-resident Indian investments have been clubbed into a single composite category.
Under the existing policy, there are different caps for separate investment categories like foreign direct investment (FDI), FII and NRIs.
"The cabinet approved the introduction of composite caps for the simplification of foreign direct investment," Finance Minister Arun Jaitley told reporters here after the decisions.
Among the decisions, a single entity under any of these categories can invest up to 10 percent of the capital of a company, while collectively it can go up to 24 percent.
But the cabinet has allowed companies to raise the limit of such investments beyond 24 percent as long as these fall within the sectoral cap in which these operate. This apart, no changes were made in the existing limits on foreign equity in various sectors.
The introduction of composite caps has led to confusion among bankers who say overseas portfolio investments can now go up to 74 percent as against the current ceiling of 49 percent.
Opposition parties, including the Congress and the Left, have opposed the proposal on the ground that portfolio investment is by nature very short-term "hot money" that can leave the country any time, creating crises of capital outflow.