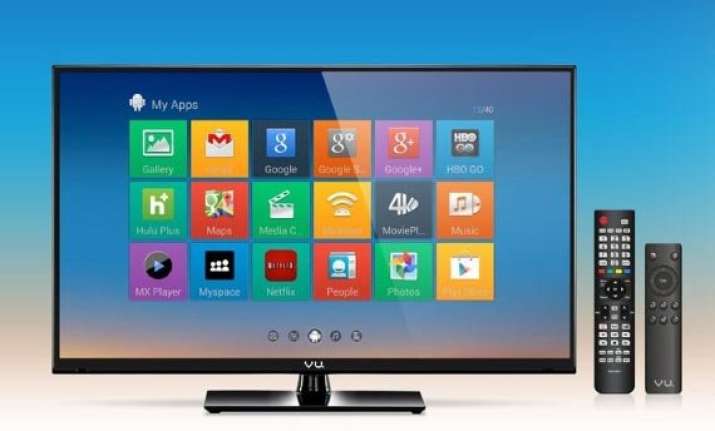 New Delhi: Flipkart has launched VU 32-inch Android LED TV from Vu Televisions, the California-based luxury television company. The TV costs Rs 26,990 and will go on sale from October 20.
The Vu Android TV operates on the latest Android Kitkat 4.4.2 OS, which offers a superior user experience. The TV offers up to 50 built-in applications and direct access to the web, and allows users to enter a world of content and gaming by streaming their favorite movies, TV shows, and sporting events on their TV.
"Today, a smart TV is an integral part of every technology savvy shopper on our site. With this introduction into the smart TV category, we are confident that we will be able to cater to the aspirations of our new age customer," said Kalyan Krishnamurthy, SVP-Retail, Flipkart, during the launch event.
"The Indian consumer market is growing at a rapid speed with increased demand for smart gadgets. Consumers today are looking for technology which can be customised to their requirements. At Vu Technologies, our focus is to offer new age technology which blends in every customer's day to day life seamlessly," commented Ms. Devita Saraf, CEO & Design Head, Vu Technologies.
This TV also offers users to stay connected with their friends using connectivity options like Skype, Facebook, YouTube and Miracast.
There is also an option to download apps from the Google Play Store to the Vu Android TV which can be accessed through the TV. The Android TV also promises a truly immersive gaming experience with a built-in Amlogic Quadcore S802 graphics chipset. From playing movies, TV shows to controlling the TV via mobile phones and tablets, Android TV takes the TV viewing experience to a whole new level.
Vu with the 32K160M (Android) LED TV is also bundling an Android function remote along with the traditional remote, as well as a free Logitech K400r Wireless Keyboard, which is for a limited time period.
Besides the inclusion of a Dolby Digital audio system, the Vu TVs include HDMI ports, USB ports, one video output, audio output, and headphone out. Wi-Fi and Ethernet connectivity are also available in the television sets.