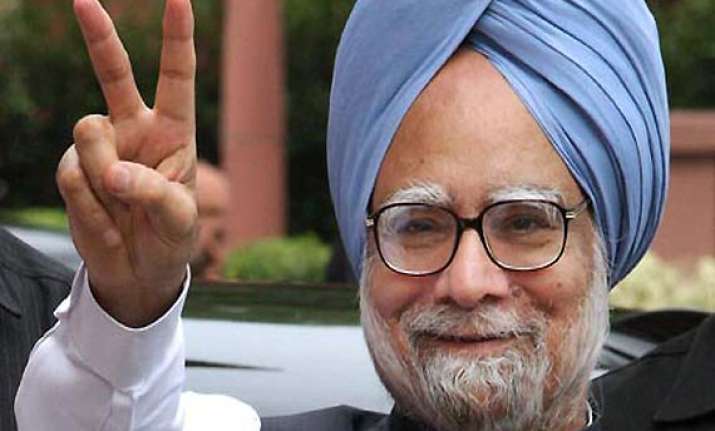 New Delhi, Dec 15: Prime Minister Manmohan Singh Saturday said that the steps the government had taken recently on the economic front were "only the beginning of a process to revive the economy."
Speaking at the annual general meeting of the Federation of Indian Chambers of Commerce and Industry (FICCI), the prime minister said the moves would aid taking the economy back to "its trend growth rate of eight to nine percent".
"Some of the decisions we have taken were politically difficult and naysayers and cynics have tried to halt us in our tracks," Manmohan Singh said.
Taking a dig at the opposition, ranging from the BJP to Left parties, the prime minister said: "Those who oppose these moves are either ignorant of global realities or constrained by out-dated ideologies."
In the face of stiff opposition from political parties wedded to divergent political leanings, the prime minister said that his government "had the courage of conviction and the interests of our people at heart" in going ahead with measures to revive the economy.
"Our government has acted to reverse the cycle of negative expectations and stimulate investment", Singh said.
He said that the rate at which poverty has declined in recent times was commendable: "Despite the challenges we continue to face, we must recognize that poverty has declined at a pace never seen in the past 200 years," he said.
The nation can ill afford disparities in basic facilities such as health, education, drinking water, electricity, and even banking, the prime minister said.
"Years of high growth enabled us to generate resources that have been deployed to improve the well-being of our people. More needs to be done", he said
The drive is to transfer government benefits directly to the bank accounts of individual beneficiaries, the prime minister said, adding that direct cash transfers should be seen in that context.
"Our government has taken a series of measures aimed at reviving investor sentiment, controlling the fiscal deficit and improving infrastructure", the prime minister said, adding that there was need to step up investment and savings rates.
"Even as we make our growth process inclusive, we cannot lower our guard in pursuing policies that restore growth momentum to the economy.", the prime minister said, adding that broadening the social base of development improves well-being and also widens the home market for business.