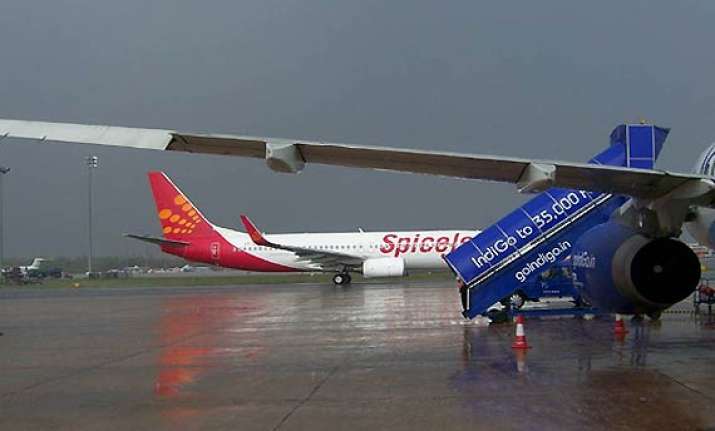 New Delhi, Nov 17: With airfares mounting in the last couple of weeks primarily due to cancellation of Kingfisher flights, aviation regulator DGCA today warned airlines not to raise air ticket prices beyond a given range. 

"There are price bands. Probably, the airlines are operating on the highest bands. ... Some upward movement due to large scale cancellations by a big airline (Kingfisher). We are closely monitoring the fares. We keep nudging them (airlines) if they go beyond the price band," DGCA chief E K Bharat Bhushan told reporters here.

Expressing hope that the fares would "level off soon," he said the airlines should have "transparency" in fixing airfares and follow the rules made by the DGCA in this regard.  Crisis-hit Kingfisher has cancelled over 200 flights since last week.

To questions on the show-cause notices issued by the Directorate General of Civil Aviation to Kingfisher, SpiceJet and IndiGo for non-utilisation of slots alloted to them and not flying as per their approved schedules, Bhushan said he had received replies from these airlines on the issue. 

Indicating that unused flight slots could be transferred to other airlines, he said, "We have asked airport operators to give details of slots not being utilised by any airline. We will take decisions under the Route Dispersal Guidelines (RDG).

"Airports will give me more information about unutilised slots. Its important that we should not make any knee-jerk reaction on the slot policy".

Airlines are allotted slots as per their flight schedules approved by the DGCA. They have to inform the regulator in advance if they plan not to use these slots in accordance with the laid down rules. The three airlines were issued show-cause notices under these rules.

Asked about ailing Kingfisher Airlines wanting to directly import jet fuel, Bhushan said the Finance Ministry would take a final call on the matter.

Kingfisher promoter Vijay Mallya on Tueday said that the company has applied to Directorate General of Foreign Trade (DGFT) for direct import of jet fuel, which would reduce fuel costs drastically. Jet fuel costs are almost 50 per cent of the total operating costs of the airline.