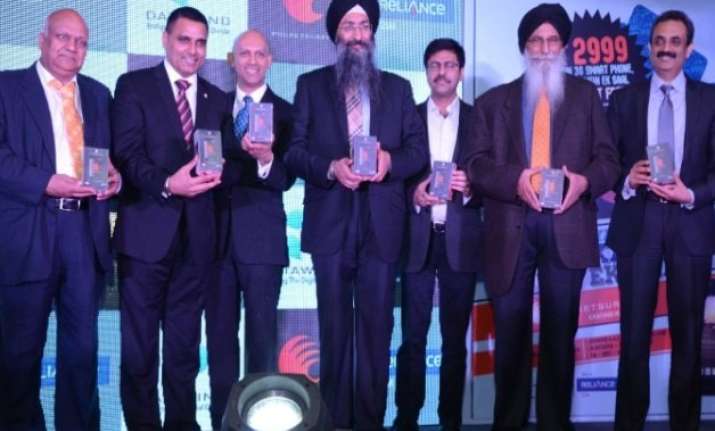 New Delhi: Akash tablet maker DataWind has launched launch three new Android smartphones costing between Rs 1,999 to Rs 5,499. The new range of PocketSurfer smartphones is powered with free unlimited internet browsing for one year on Reliance.
The free Internet access does not include audio/video streaming or local downloads, it includes only browsing. For extra usage users need to have separate data plans.
The most affordable in DataWind's new smartphone range is PocketSurfer 2G4. It has a 3.5 inch screen, dual-SIM support, a 1GHz single core CPU with 256MB RAM and 512MB ROM which can be expanded up to 32GB via microSD card. It runs Android 4.0.3 Ice Cream Sandwich operating system and offers a VGA rear camera, Bluetooth, FM Radio, WiFi and claims four hours of talk time battery life.
PocketSurfer 3G4 is a 3G enabled smartphone and offers a 4-inch capacitive display with a resolution of 800 x 400 pixels. The device is powered by a 1.2GHz dual core processor and Android 4.4.2 KitKat operating system. It comes with 256MB RAM and 512MB ROM which can be expanded up to 32GB via microSD card. The handset sports a 5 MP rear camera with fLash and a VGA front camera. The dual SIM GSM handset supports 3G and 2G connectivity and comes with Bluetooth, FM Radio and WiFi and is priced at Rs 2,999.
PocketSurfer 3G5 is a mid-range smartphone and features a 5-inch display with WVGA resolution (800×480 pixels). It is powered by a 1.2GHz dual core CPU with 512MB RAM and 4G ROM which can be expanded up to 32GB via microSD card. It runs on Android 4.4.2 OS and offers a 3MP rear camera with Flash and a VGA front camera. It is also a dual SIM smartphone with 3G support, Bluetooth, FM Radio and WiFi. It costs Rs 5,499.
"We are passionate about technology and access that enables and empowers the common man to achieve more in every conceivable way. With this new range of ultra-low cost smartphones, powered with free Internet access by India's leading network, we hope to ignite a spark that will revolutionise India's movement towards achieving its grand vision of a Digital India. We see this as a beginning of a new phase in Internet revolution led by mobile Internet and we are delighted and privileged to have Reliance Communications by our side in this new transformational journey towards a Digital India," said Suneet Singh Tuli, President & CEO, Datawind.
"We are delighted to partner with Datawind and offer unlimited data for 12 months on our high-speed GSM data network, which will lead to a unique user experience on the PocketSurfer Smartphones, which sport many technological breakthroughs. A product like this one will be best experienced on a seamless IP-enabled network such as RCOM's, and will make for an unmatched data experience," said Gurdeep Singh, CEO, Consumer Business, Reliance Communications.
The products will be available on Naaptol's TV, print and online shopping platforms. The products will also be available from March 24 at Sangeetha Mobiles, Spice Hotspot Retail and retail partners. With this launch, DataWind targets tier II and tier III cities of the country.