Follow us on New Delhi: The fabled love story that changed a traditional Roman Catholic girl Sonia Maino into the heir to the political throne of Gandhi family and made her join the league of the most powerful people in the world, is no more a concealed fact.
Born to Stefano and Paolo Maino on December 9, 1947 in a small village of Orbassano, Turin, Italy, Sonia came from the working class strata of the society.
Her father Stefano, was a contractor and ran his own small construction business and her mother Paolo was a caring housewife. The life transforming event in Sonia's life came at the age of 18 when she was sent to Cambridge, England for her studies.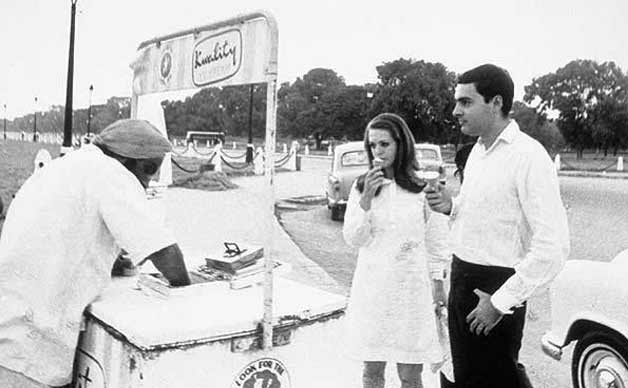 In 1965, she met a fellow student who was studying mechanical engineering at Cambridge and with the course of time became the man of her dreams.
Rajiv Gandhi, the son of Indira Gandhi, was mesmerized by Sonia's  beauty and it was love at first sight for him. They dated for three years as everyone, including Sonia, was hesitant towards taking the relationship a step forward and tying a knot with the most eminent family's eldest son Rajiv Gandhi.

Meanwhile, Indira Gandhi became the prime minister in 1965. Sonia met Indira Gandhi and very soon both of them developed a liking for each other.
Sonia and Rajiv got married in 1968 in an unpretentious ceremony in Delhi. Clad in a pink saree which her mother-in-law wore at her own wedding, Sonia looked astounding.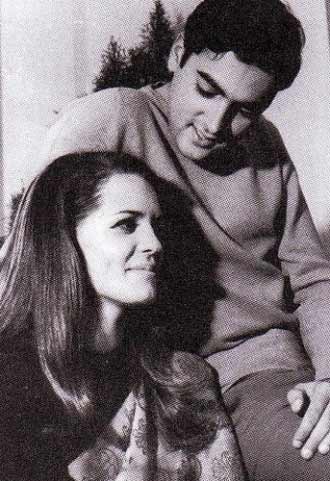 Prior to the wedding, Sonia stayed with Gandhi family friend Hindi poet Harivanshrao Bachchan's (Amitabh Bachchan's father) family  as a 'bahu' and the kanyadaan rites were performed by him.
Right after the marriage the newly wed couple starting living with Indira Gandhi and the relationship between Indira and Sonia strengthened with every passing day.
In their in initial days, Sonia Gandhi worked as hostess at state functions along with her mother-in-law while Rajiv stayed comparatively withdrawn from politics. He acquired fervour for flying and pursued a career as a commercial pilot for Indian Airlines. Therefore, the inheritor to the cathedra was considered to be Indira Gandhi's younger son Sanjay Gandhi. Rajiv's reluctance towards politics resulted in Sonia and Rajiv living in a comparatively more noiseless environment upbringing their two kids Priyanka and Rahul.
In 1969, Congress was renamed as Congress-I, in which I stood for `Indira'. She was the most powerful lady leader world had ever seen. The 1970s decade was called the Indira Gandhi decade.  During the Emergency in 1975, her son Sanjay Gandhi gradually gained control over the leverages of power as a youth leader and at the Guwahati AICC session in 1976, organised by Sanjay Gandhi, his mother remarked : "The Youth Congress has stolen our thunder".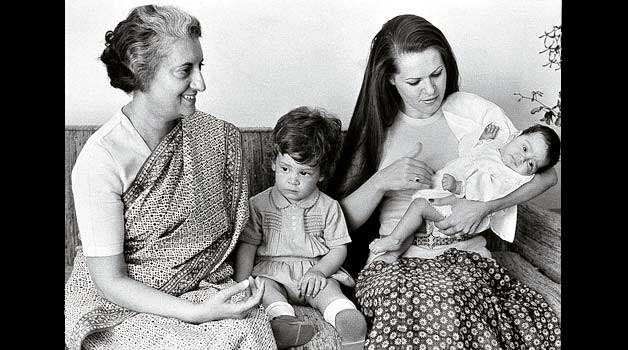 The very next year, in the 1977 general elections, both Indira Gandhi and Sanjay Gandhi lost elections from Rae Bareli and Amethi respectively because of a nationwide wave in favour of Janata Party. After losing power, Indira Gandhi shifted from the PM's residence at Safdarjang Road to 12, Willingdon Crescent, with sons Rajiv and Sanjay keeping her company.  At that time, there were rumours circulaed by anti-Congress circles that the family members may flee from India, but these proved to be baseless.

Indira Gandhi faced the Justice Shah Commission of Inquiry, and being a politically astute lady, she brought about division in the Janata Party, which broke up into two, with Charan Singh walking out with its supporters. The Morarji Desai government fell, and with the outside support of Congress, Charan Singh became the Prime Minister, but his government too fell. In the 1980 general elections, both Indira and Sanjay were elected from Rae Bareli and Amethi respectively. But soon after on January 23, 1980, Sanjay Gandhi died in an aircraft mishap near Safdarjang airport.

This led to Indira Gandhi to look at her elder son Rajiv  expecting him  to join politics and carry forward the political legacy of the family. Sonia was not thrilled with this idea. As a worried wife she confronted the proposal but after few debates she supported her husband and Rajiv agreed to take over as party general secretary by 1983.  Rajiv won from the Amethi parliamentary seat vacated by his brother.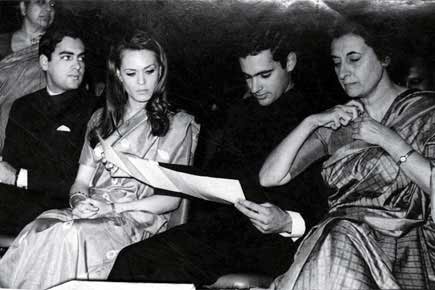 On October 31, 1984, the entire nation was stunned as Indira Gandhi was assassinated by her two Sikh bodyguards - Beant Singh and Satwant Singh at her official residence 1, Safdarjang Road. Rajiv Gandhi was away in West Bengal, and Sonia had to rush to the AIIMS carrying her mother-in-law, who succumbed to a hail of bullets unleashed by the assassins. Soon after anti-Sikh riots broke out, and the same evening, Rajiv Gandhi was sworn in as Prime Minister by President Giani Zail Singh.
In the 1984 general elections, a wave of sympathy for the Gandhi family brought more than 400 Lok Sabha seats for the Congress, and Rajiv Gandhi took over the reins of the party and government. Sonia supported him and transformed herself as prime minister's wife.
She worked at the National Gallery of Modern Art in New Delhi where apart from restoring old paintings, she compiled letters between Indira and her father Jawahar Lal Nehru. These letters were published in 1980s.   Meanwhile, the Bofors gun controversy brought disrepute to the government, and in the 1989 elections, the Congress lost power  and V P Singh led the National Front to power. This government did not last long and in 1991, Chandra Shekhar became the Prime Minister for 4 months with outside support of the Congress.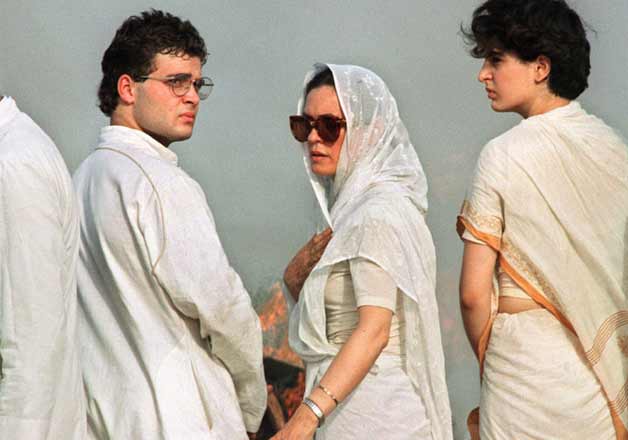 During the 1991 elections, Sonia Gandhi's fears came true, when her husband Rajiv Gandhi was assassinated by an LTTE suicide member in Sriperumbudur, while he was on an electoral campaign. Sonia became inconsolable and devastated.  
Though the Congress came to power and P V Narasimha Rao took over as prime minister, Sonia Gandhi preferred to stay away from the glare of politics.

Devastated by the  assassinations of her mother-in-law and husband, Sonia  allowed Rao to run the government, but in 1996, the Congress failed to retain power and Atal Bihari Vajpayee, H D Deve Gowda and I K Gujral  became prime ministers one after another from 1996 till 1998, when BJP emerged as the single largest party and Vajpayee again became Prime Minister to rule for the next six years.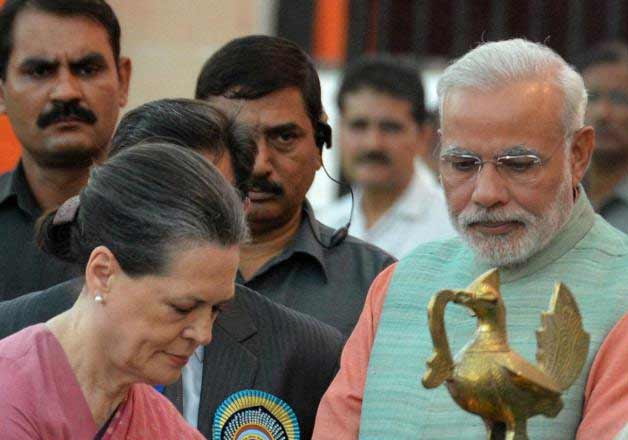 During this time, Sonia emerged as a knight in shining armor for the Congress party after 6 years of silence and isolation from politics. Congress was never able to recuperate from the loss of their most powerful leader Indira Gandhi. It was waiting for its leader and Sonia was approached a lot of times. But she declined all such proposals. But after 6 years she sensed the responsibility and joined Congress in 1997.
She toured the country and delivered speeches as a part of her electoral campaign. Despite her difficulty in reading out Hindi sentences, her persona moved the people of India probably because the masses felt sympathetic with the widow and the country was in immense need of a leader. She had hardly any knowledge about politics, and the CPI-M leader Jyoti Basu had remarked that she was a "housewife".  Yet her persistent attempts to revive her party made opponents like BJP take Sonia seriously.

In April 2004, the Congress party, completely revitalized and reawakened, managed to get a slim majority in Lok Sabha  with its UPA allies and outside support from the Left and May 19th marked the beginning of new era for Congress.   As the BJP raised the issue of Sonia being a leader of "foreign origin", Sonia Gandhi, after much deliberations within her family,  declined the the post of Prime Minister and proposed Manmohan Singh's name as Prime Minister.  She however continued to keep control over the ruling Congress Party.
The Congress repeated its electoral success in 2009, and Dr Manmohan Singh continued as prime minister, with Sonia Gandhi holding the political reins as UPA chairperson.

Commonly known as Desh ki Bahu, she indeed played the role of a responsible daughter-in-law and carried forward the heritage which her mother-in-law had left behind.