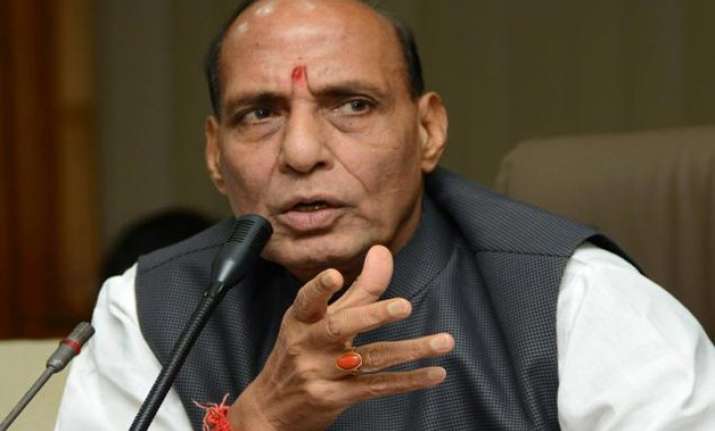 Farrukhabad (UP): The Centre is working on a new farm income insurance scheme which will help increase earnings of farmers and lessen their plight, Home Minister Rajnath Singh said here today.
Addressing a farmers' rally in Modha village here, Singh said the central government was committed to improving infrastructure in villages and initiate development programmes. He also listed out social security schemes andprogrammes of the NDA government for the benefit of the poor.
The Union Home Minister said the Uttar Pradesh government was yet to provide relief to hailstorm-hit farmers though the Centre had released funds for the purpose.
"I wonder why relief has not reached the affected farmers despite the Centre releasing funds to the state as per our federal structure," he said, adding that the Centre had even relaxed norms for relief to farmers affected by heavy rains and hailstorms. Singh said steps also need to be taken to improve law and order situation in the state and offered to deploy additional central security personnel, if required.
Noting that unemployment was a major issue in rural areas, he said the Centre has formed Mudra Bank with Rs 20,000 crore to provide initial financial support to all those striving for self-employment opportunities.
He also highlighted the much-touted social and economic scheme of the central government like Atal Pension Yojana and Jan Dhan Yojana.
Lauding the steps taken by the Centre to help reduce inflation and keep a check on it, he said this was possible due to the efforts of the government led by Prime Minister Narendra Modi, whom he termed as "a realist".
He also lauded Modi's Swacch Bharat campaign and said that doing political work alone was not enough and social concerns also need to be addressed.
At the rally which was also attended by a large number of ex-servicemen, Singh said a strong government at the Centre had given befitting response to Pakistan whenever it had resorted to unprovoked cross-border firing.
Singh said the economy to a large extent has been stabilised and inflation checked in the one-year rule of the Narendra Modi-led NDA government.
"When our government came to power, economy was going through a very bad patch and the inflation was at its zenith," Singh said.
"Within a year the Modi government has put brakes on inflation and was successful in stabilising the economy up to a great extent," he added.
The Centre, he said, intended to run government not just on the basis of economic principles, but also on the basis of reality.
Stating that if prices were reduced drasticallythe economy could face trouble, the Home Minister said inflation would be controlled gradually.
After dedicating to public a newly-constructed 'Shaheed Smarak' here, Singh said the village was probably the only one from where jawans have sacrificed their lives in every war.