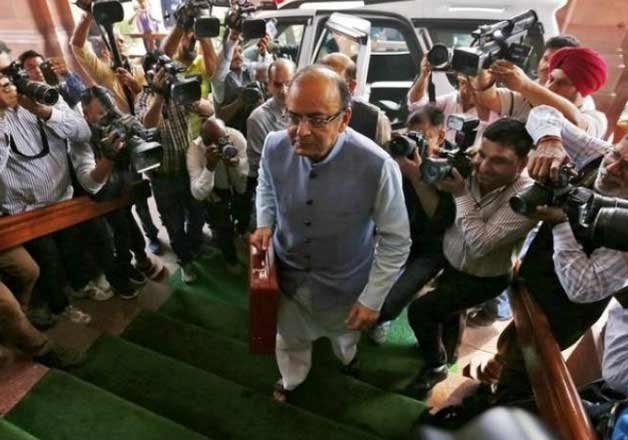 New Delhi: The Union Budget for the year 2016-17 presented by Finance Minister Arun Jaitley, his second full budget in the government's tenure, has been hailed as a pro-poor, pro-farmer and pro-agriculture budget by Prime Minister Narendra Modi, received both bouquets and brickbats from political opponents and experts.
Congress vice president Rahul Gandhi, who had initially refrained from passing any comments on the Union Budget, later came out all guns blazing in a series of tweets slamming the Modi government over what he termed as rhetoric.
"Modiji spent the first 2 years mocking the Congress Party's focus on farmers, MNREGA, Rural dev & social spending. Now mere rhetoric, without vision or action, will fool neither farmers nor the poor of this country. Budget2016 lacks both vision & conviction. A list of new promises w/o (without) any account of the failure of tall promises made in last 2 budgets!" Rahul said on Twitter, adding a note of thanks to the FM for accepting his recommendation on removing import duty on Braille paper to help the visually impaired.
Other opposition parties too were largely unequivocal in dismissing the budget as a disappointing one. Bihar chief minister Nitish Kumar too slammed the budget saying it had nothing concrete on alleviating farmers and the agriculture sector from its current situation. "They have been talking about development of agriculture, farmers, but nothing concrete seen," the Bihar CM said on Budget 2016.
The Congress criticised the Union budget saying it has failed to create an "immediate stimulus" to address challenges of employment generation and agriculture sector. "This is a budget of future clarifications. There is no immediate stimulus to create disposable income in the hands of people or to generate employment," said Congress leader Kamal Nath.
"One big takeaway from the budget is that there is no new idea," said Congress leader and former FM P Chidambaram. Another Congress leader Manish Tewari too slammed the budget, saying it was high on rhetoric, flawed in comparisons and bereft of any ideas.
Omar Abdullah of the National Conference, however, had a rather different take on the budget this year. Taking to Twitter, Abdullah wrote, "By not focusing the benefits of #UnionBudget2016 on the #suitboot (sic) people @arunjaitley has cleverly made the opposition's job a bit tougher."
While political opponents have understandably found ways to slam the Budget, experts and the corporate sector are largely divided in their reactions. While a majority of them consider this budget as a forward-looking one, there are some that wish the government would have done more.
"The Budget is pragmatic and growth-oriented. The Government's commitment for retaining the fiscal deficit at 3.5% will have sobering effect on the interest rate in general and on the yields of government and corporate bonds in particular. This will place our economy in the double digit growth trajectory," said Ashok P Hinduja, Chairman, Hinduja Group of Companies (India).
Sanjay Bhatia, CMD, Hindustan Tin Works, praised the budget saying it had several announcements to lessen litigation. "The government has announced several measures to reduce litigation. The system will benefit from the luxury taxes imposed," he said.
Jyotsna Suri, CMD, Bharat Hotels and past president of FICCI also praised the budget saying the measures announced by the government will have a positive impact on thye farm sector. "Measures to rein in the black money are good but it remains to be seen how effective they will be," she said.
The real estate sector, which was expecting a major push from the government in this budget is also not very enthused. "While three of the real estate sector's major expectations – increased HRA deduction, removal of DDT from REITs and boost to affordable housing by allowing 100% deduction on profits made by entities constructing them – have been addressed, the Budget offered no financial protection from project delays to home buyers," said Anuj Puri, Chairman and country head, JLL India.
According to Puri, most first-time home buyers in the major metros will be left out of the additional Rs. 50,000 tax exemption announced today, as it is applicable only on houses worth up to Rs. 50 lakh with loans of up to Rs. 35 lakh for houses. "This announcement will mostly benefit first-time home buyers in tier-III and tier-II cities," he said.