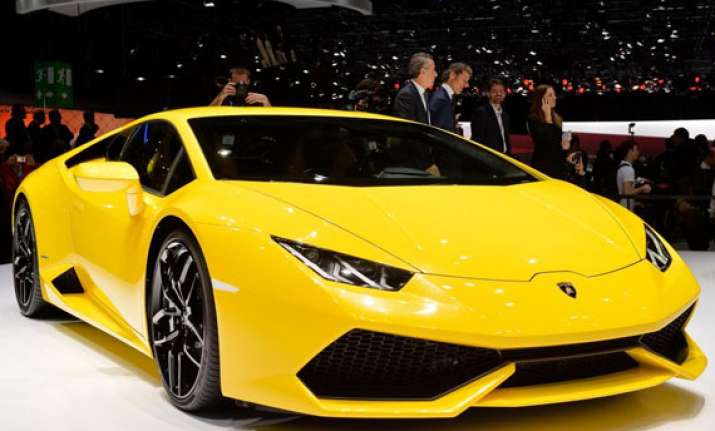 New Delhi: The new Lamborghini Huracan or also known as LP 610-4 will be officially launched in India on September 22 and will cost around Rs 3.5 crore to Rs 3.8 crore.
Huracan is Lamborghini's replacement for the best-selling car in its history, the Gallardo.
It would be wrong to dismiss this as a refreshed Gallardo. The Huracan comes with an all-new chassis structure, new suspension with new controlling electronics, new steering, a heavily revised engine and a new seven-speed dual-clutch gearbox to replace the Gallardo's clunking robotised manual. The car also comes with a new four-wheel drive system and new cabin.
Like the McLaren, the Huracan uses RTM carbonfibre for its rear bulkhead, central tunnel and the rear part of the sills.
The car is powered by a 5.2-litre, naturally aspirated V10 engine which produces 618PS of peak power at 8250rpm and peak torque of 560Nm. The engine is mated to a seven-speed dual-clutch transmission, the first for Lamborghini.
Lamborghini claims that the Huracan can achieve attain a speed of 100kmph in 3.2 seconds and 200kmph in 9.9 seconds with a top speed of more than 325kmph.
A dry weight of 1422kg sees the Huracan deliver a power to weight of 423bhp per tone.
The new model from Lamborghini Huracan has received overwhelming response in the international supercar market with over 700 orders in under a month after its launch at the Geneva motor show earlier this year. The Huracan competes against the likes of the Ferrari 458 Speciale, the Porsche 911 Turbo/GT2/GT3, the Audi R8 V10+ and the Aston Martin Vanquish.