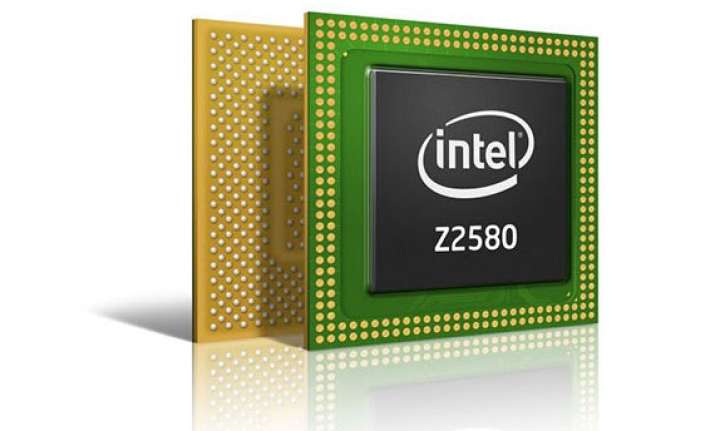 BARCELONA, Spain:  Innovative and new-fangled Atom Processor for smartphones was launched on Monday by Intel.
To advance its technology in mobile phones  Intel is trying to lessen its worries over its persistent struggle in the marketplace.        
At a press conference at Mobile World Congress, the Santa Clara Calif, company revealed two new 64-bit atom processors and an LTE-Advanced chip.
Intel has also  declared multi-year agreements with famous manufacturers Lenovo, Foxconn, and Asus in order to  enlarge mobile devices which will be able to run on Intel chips.
Manufacturers Lenovo and Asus have coupled together with Intel in PCs.
Moreover, both of them have launched tablets with inbuilt Intel chips. Lenovo had earlier launched a smartphone with Intel in the past, but the device didn't run that well in actuality.
Intel, on Monday said Lenovo and Asus are planning to launch a variety of smartphones and tablets this year.
For the moment, Dell, will come up with  new Android and Windows tablets, whereas Intel will work with Foxconn to provide accessibility of great quality, with reasonably priced Intel-based Android tablets. Foxconn will come out with devices, this year starting with tablets.
Intel has been ruling the market for PC and server chips, unlike the struggle it had to face with smartphones.
Next to each mobile device runs on chips based on a plan by rival ARM Holdings, produced and formed by companies such as Samsung Electronics and Qualcomm with Intel left to struggle for bits and pieces.
Intel has said that the year 2014 will prove to be a better year for its smartphone business.
Intel looks forward to its codenamed Merrifield, new 64-bit Atom processor, and now it has its eye on 'Z3480' that will catch on with smartphone makers.
The feature of its chip is 64-bit that permits for faster dispensation, and runs at 2.13 GHz. Its specialty is that it is supported by Intel's 22 nanometer; Silvermont microarchitecture.
Its chip is the first to mark the new "Intel Integrated Sensor Solution", which deals with sensors data even when the gadget is in a low power state.
Intel looks forward to devices from multiple handset makers to commence opening in the second quarter.
Intel's next-generation 64-bit processor codenamed Moorefield was also briefed by the company.
The chip is intended at a device that's mostly likely to come in the second half of the year.
It is built on Merrifield by adding up two additional cores for up to 2.3GHz of better computing performance.
With the new application processors, Intel also made XMM 7260 LTE-Advanced processor open for the public.
 The chip, which is at this time licensed to run on 70 percent of LTE networks worldwide, offers the speeds of up to 300Mbps downlink and 50Mbps uplink.
Companies are preparing to use this chip that will include Acer, Asus, Dell, Lenovo, and Samsung.
Intel will start a processor, which will have 3G technology incorporated by the end of 2014.
Moreover, it will put together 4G LTE into its mobile processor, codenamed Sofia in the first quarter of 2015.