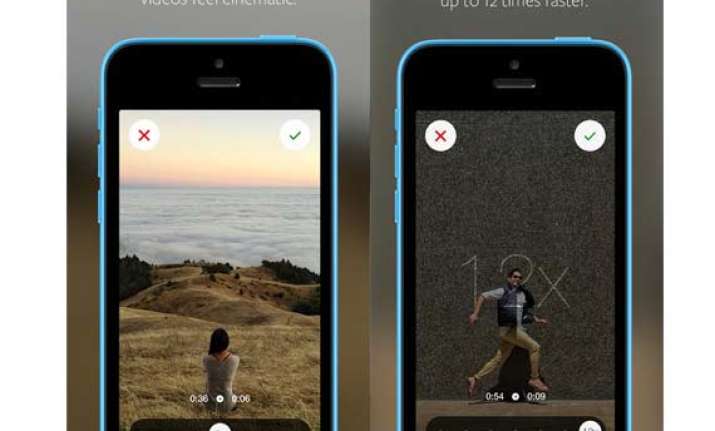 New Delhi: Are you tired of the shaky and bumpy footage you get when shooting with your smartphone? A new standalone iOS app by Instagram, called Hyperlapse, brings the much needed image-stabilization algorithm that reduces shakiness. This means a user can shoot a video without worryng about shaky video shots.
While the standard time lapse video are generally static or involve only slight motion, a hyperlapse depicts motion and clubs the elements of a cinematic tracking shot with a time lapse.
A hyperlapse is a technique under the time lapse photography where the frequency at which your film frames are captured is much lower than the time needed to view the footage you recorded. This means when you view a time-lapsed version of walking down the street, the cars, people, will appear to be moving at a hyper-fast speed.
"Image stabilization tech is processing-intensive to the point where it really isn't feasible on mobile. However, by using the gyroscopes in the phone itself, the Instagram team used algorithms to calculate the movements of the phone and correct it in the shot," the app's creators said.
However, unlike Instagram's original app, where you can quickly take a snap and apply a filter, you need to invest time in your creation using Hyperlapse. It takes a whole six minutes to record one minute of footage at the app's highest speed. This may be tiring to some since most are not used to holding a smartphone for that long.
Here's how to use it:
1. Download the app on iOS.
2. You need not sign in; just allow the app to access your camera, microphone, and photos.
3. Now you'll see the recording mode with a white, rainbow-lined button. Users can film either horizontally or vertically.
4. As you record, you'll be presented with two time stamps below the Stop button. The left side shows you how much time you've recorded and the right end shows the time that translates to once you've sped up the frames at the highest rate (12 times). This means taking a 30 minute video will give you a much quicker video.
The company says the app bring a fun photography technique to the masses, which gives them an opportunity create both unique and mundane videos.
Besides Hyperlapse, Apple too have announced a similar feature that will be added to the standard camera app when iOS 8 is released this fall.