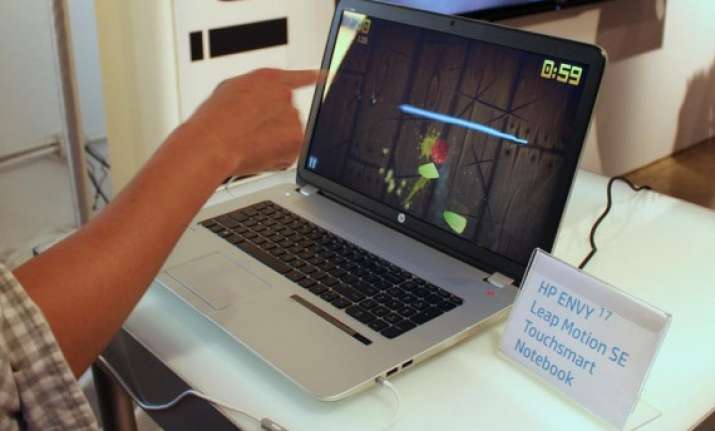 New Delhi: HP has launched a new premium notebook, the HP Envy 17 Leap Motion SE, which comes integrated with a motion controller from Leap Motion, that allows users to control apps and interact with the laptop using hand and finger movements. The notebook is all about touchless control and the ability to navigate your laptop with just your eyes or your hands. It costs Rs 1,14,000.
Leap Motion is an embedded device in the notebook that captures hand, wrist and finger motion in 3D space and converts that information into signals that can be interpreted by a PC and used to control input. HP's new laptop uses that same technology, sized to fit seamlessly into the chassis.
Leap controller's forte is the big, sweeping motion. The laptop is pretty good in playing a variety of gesture-based games: from Fruit Ninja to Google Earth. Airspace, the Leap app store, comes bundled with the Envy along with HP's usual software suite. Buyers will get five free apps to start.
The notebook looks like previous models with the only difference being the sensor strip that has been added to the right of the touchpad. Though it is a larger Envy, it looks slim with tapered edges. Also, the controller does not seem to add any bulk.
The HP Envy 17 Leap Motion SE has a 17-inch screen, which has a full-HD 1920x1280 resolution and support for multitouch. The CPU is a quad-core Intel Core i7-4702MQ running at 2.2GHz (with Turbo Boost up to 3.2GHz), 8GB of DDR3 RAM, and a dedicated Nvidia GeForce GT750M graphics processor with 4GB of video RAM.
The device comes with a 1TB hard drive, Beats Audio enhancement, and four speakers plus an integrated subwoofer. It runs Windows 8.1, the latest version of Windows.
Overall, Envy 17 looks like a decent laptop. It has got a decent keyboard that is pretty responsible to the typing needs.
With Envy 17, HP is giving a three-year onsite warranty which covers even accidental damage in the first year. Users can add a three-year warranty with onsite service the next business day for Rs. 8,000. HP also offers a reimbursement for up to Rs. 2,000 worth of apps purchased from Leap Motion's Airspace store, and free, unlimited music downloads for a year from HP's Connected Music store.