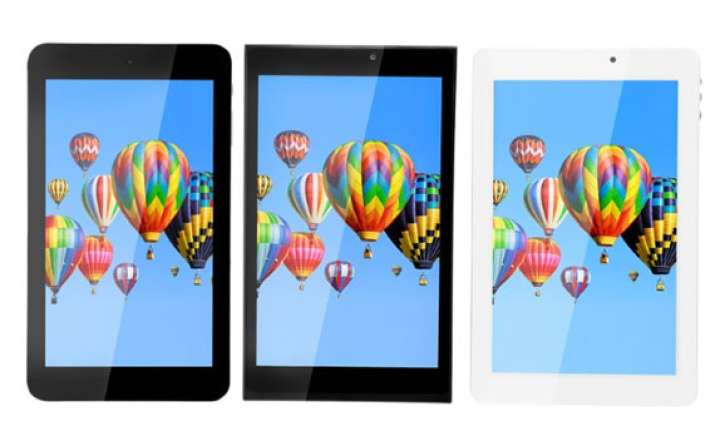 New Delhi: E-commerce platform Flipkart has launched five new Intel-powered tablets under the Digiflip Pro brand series in a price range of Rs 5,999 to Rs 13,999.
The tablets include ET701 - a 7-inch Wi-Fi only tablet with 1.20 GHz dual core processor (Rs5,999); XT811 (Rs10,999) and XT801 (Rs8,999) - 3G with voice calling with 8-inch HD display; XT911 (Rs15,999) and XT901 (Rs13,999) - 3G with voice calling with 2 GHz dual core processor.
The cheapest tablet in the segment, ET701, comes with 1024x600p IPS display and is powered by a 1.2GHz Intel Atom Z2520 processor running Android Jelly Bean. It offers 1GB RAM and 8GB internal storage expandable by up to 32GB. The tablet gets its juice from a 2800 mAH battery.
The 8-inch XT 811 and XT 801 have a 1280 x 800p HD screen and are powered by 2 GHz Intel Atom Z2580 processors. The devices comes with a 16 GB Storage and are fueled by a 4200 mAH battery. The Wi-Fi only version will cost Rs 8,999, while the version with 3G calling will cost Rs 10,000.
The 8.9-inch XT 911 and XT 901 have the same processer as the 8-incher. These tablets offer a Full HD screen and have a larger 6500 mAh Li-polymer. The Wi-Fi model has been priced at Rs 13,999, while the 3G version will cost Rs 2,000 more.
All the tablets are powered by Android 4.2.2 Jelly Bean operating system with an assured upgrade to KitKat.
"We went through a learning curve with our first tablet and also took consumer reviews to decide on the next set of devices. The new range is step up on variety and specifications and caters to a range of customer requirements in this segment," said Flipkart VP Retail and Head (Brand Alliances) Michael Adnani.
Intel South Asia Director (Marketing and Market Development) Sandeep Aurora said the Intel Atom processors in the tablets are power optimised for great performance and energy efficiency, ensuring a high speed seamless experience along with great battery life for users who have the need to be constantly connected on the go.
"Intel always strives to bring to consumers the best of computing technology, across form-factors at competitive price points. We are excited to work with Flipkart to launch these five new tablets, powered by Intel processors, which will deliver a compelling mobile computing experience to consumers," he added.
The after sales service for Digiflip Pro tablets will be handled through a network of over 120 service centres in more than 100 cities.