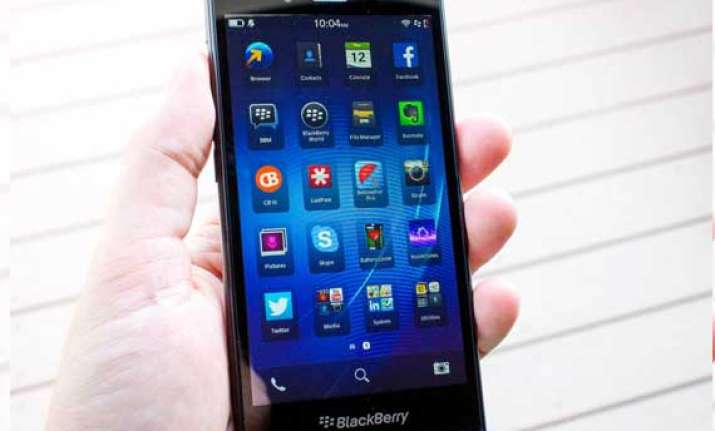 New Delhi: BlackBerry's low cost touchscreen smartphone, the Z3, which was first launched in Indonesia last month, is now available in India for Rs 15,990. This is the first product of the Foxconn / BlackBerry partnership worked up by John Chen. Buyers on Flipkart and Mobile Store are offered a Rs 1,000 voucher for the first month.
Blackberry India MD Sunil Lalvani said the phone has been designed keeping Indian consumers in mind.
The Z3 is a mid-range handset, featuring a 5-inch full touch display with a 540×960 resolution. The device is powered by a Qualcomm Snapdragon 400 SoC which has a dual-core processor along with 1.5GB of RAM. The smartphone sports a 5MP rear camera and a 1.1MP front-facing camera.
The device runs the new BlackBerry 10 Operating System version 10.2.1. It offers a 5MP rear camera along with 1.1MP front camera. The camera has got auto-focus besides the Time Shift mode along with some great filters.
The Z3 is 3G enabled, and has all the standard fare — Wi-Fi, Bluetooth, GPS, and even Miracast support. The device gets its juice from a big 2500mAh battery. There is no LTE in this model.
Despite being made of plastic, the device does not feel cheap in the hand. The built quality of Z3 is pretty good and the device fits snugly in the hand and it's not slippery at all thanks to the textured back.
There's no removable battery door on the Z3, and has the SIM and SD card slots on the right side of the device, under a flimsy little door. On the left are the power and volume buttons. A 3.5mm headphone jack sits on the top, on the bottom there is a microUSB port.
The phone includes apps such as Wonobo, a Google Streetview-like mapping service covering top cities.
Key features of Z3:
BlackBerry Hub – The BlackBerry Hub is a the centralized location for all of your notifications on the Z3, and it's accessible anywhere, anytime. Swipe to the right from the homescreen to see your email, text messages, phone calls, social notifications, BBM chats and more. New features like BlackBerry Priority Hub and pinch gestures allow for even deeper use of the Hub as well. The Hub is good for multitasking.
BBM – The feature offers BBM voice and video chatting with Screen Share and support for BlackBerry Natural Sound.
BlackBerry Keyboard – The BlackBerry Keyboard learns what words you use and how you use them, then offers them up to you so you can type faster and more accurately.
Time Shift & Story Maker – While the Time Shift camera feature allows to capture a group shot where everyone is smiling with their eyes wide open, you can use Story Maker to bring a collection of photos and videos together, along with music and effects, to produce an HD movie that you can instantly share on YouTube.
BlackBerry 10 Browser – The BlackBerry 10 browser sets the industry benchmark for HTML5 performance on smartphones, and is fast and fluid.
Instant Previews & Reply Now – Instant Previews brings BBM, SMS and email message to you no matter what you are doing on your Z3.
Fast, Easy Sharing – The Z3 gives offers fast sharing. Touching "share" in any app provides suggestions on who and how to share your files based on who you've shared with in the past.
FM Radio – You can listen to local FM stations, which does not require any network connection.