Follow us on Happy Ending without being a 'hat-ke' drama is still a feel good entertainer that doesn't allow you to think much but just sail through the simple and real philosophies of life with it.
Ratings- ***
Stars- Saif Ali Khan, Ileana D'Cruz, Govinda
Director- Raj Nidimoru and Krishna D.K.
Music- Sachin-Jigar
While watching this two hours-and-twenty minutes drama one could easily draw 'Cocktail' and 'Love Aajkal' in their imagination both having Saif Ali Khan as the main protagonist. Director duo of Raj Nidimoru and Krishna D.K knows that the story line, which they are presenting before us is little predictable but they don't care much since it's the freshness in the execution, which they believe will work.
There are usual dialogues and discussions, which add up in making this movie acceptable. Whether it's Yudi (Saif Ali Khan) and his inner ego Yogi's thoughtful assertive discussion, or Yudi and Aanchal Reddy' (Ileana D' Cruz) blatant debate over love, Happy Ending is filled with many little yet contemplating thoughts, which surely arrive once in every one's wits.
Producer and actor Saif Ali Khan mostly suits in the character, which actually describes him. We have seen him like this before and this time too he nails it beautifully.
He plays Yudi Jaitely a flirtatious writer who has allergy from 'I love you' and relationship commitments. His only written book has brought him wealth, ladies and everything a man could dream of. But there is a limitation to everything and Yudi doesn't realize the disaster waiting ahead in his life. He loses fame and along with that he is short of every lavish thing that he can cheer about. All this is taken over by Aanchal who is all the more similar like him but with less arrogance.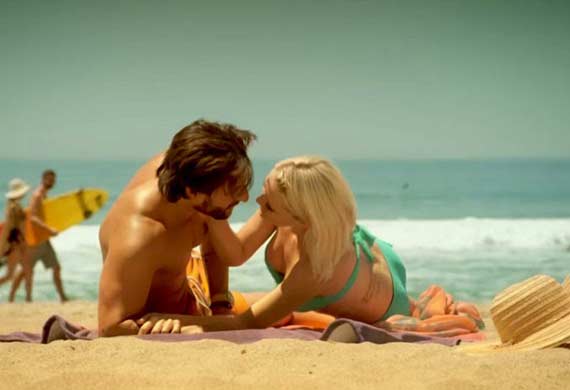 Realizing all the doors of earnings have closed, Yudi takes the asylum of Bollywood star Armaan who asks him to pen down a cliché 'romedy' (romance+comedy) story for his movie, which hardly should be touched by logics. Now how he takes this new job and pursues with it, is what Happy Ending rolls in.
Happy Ending, which is no very different still manages to keep the core essence intact, which is entertainment. There are ample of moments that bring a smile of satisfaction on our faces.
Among them the directors' attempt to take a dig on movies, which are deemed to be non-sensible just to satisfy the 'entertainment' lust of the audience who doesn't bother to put much brains to find logics is the best part which comes out.
Taking a spoof on its own field however doesn't require too much of understanding but what here matters- is the execution. Many who would be criticizing the masala flicks will come to know the circumstances under, which such logics-free dramas are made.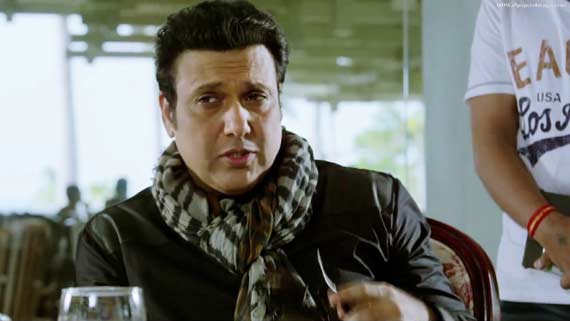 Yudi and Yogi's camaraderie is something, which we have lived and time and again it happens with all of us. There discussion or spoof over the rom-com dramas, the 12 am to 4 am nuisance which one man commits after being drunk- are all relevant and win our vote of consent.
We laugh on the foolishness and jibe taken on Indian movies and say 'yes this is what we have been witnessing in Indian movie since years'. The frustration on Yudi's face is the result of the intentional scriptural errors a scriptwriter is compelled to quote down to keep his boss happy.
The curtains are raised and story behind the formulaic cinema is revealed, which leaves you in splits. How cleverly both 'the classes and the masses' are teased to watch the movie is well explained.
What make this movie more interesting are the usual and genuine performances of the actors. Saif Ali Khan had played a relevant notorious spoil brat's role before so he doesn't face many problems this time around but it has to be said that he is more refined now.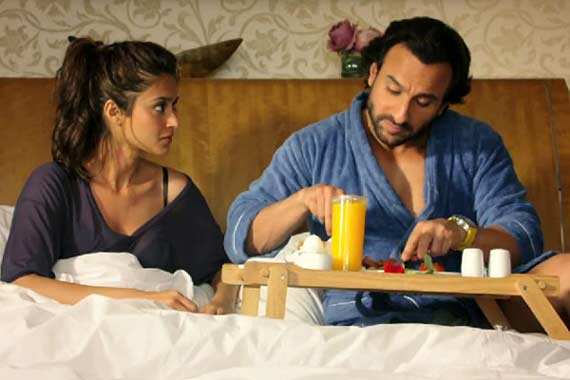 Ileana D' Cruz is brilliant. After acting in couple of masala flicks it's good to see her playing something different and real. Her chemistry with Saif is relatable and amusing.
Govinda as a commercially prone actor is brilliant. No wonder he has numerous shades and is capable of presenting any one of them with finesse. While last week we witnessed him as an anti-hero in 'Kill Dill', with Happy Ending he once again is back to his comic avatar but with a twist.
Music by Sachin-Jigar is beautiful. Songs like 'Jaise Mera Tu' and 'G Phaad Ke' are our favourite from the album.
I'll go with three stars for Happy Ending.