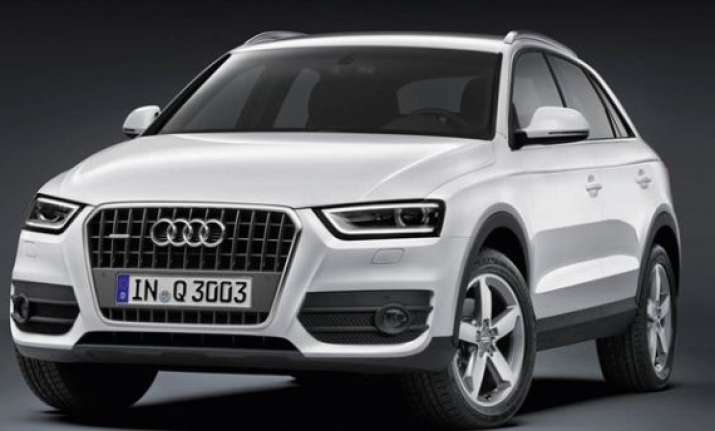 New Delhi, Jun 7: German automaker Audi introduced its compact luxury SUV Audi Q3 in India on Wednesday, taking BMW's X1 head on.
Mercedes-Benz, the third German luxury player does not have a competing product in this segment that is expected to generate good volumes.
Introducing the soft roader that is targetted at urban customers who desire a vehicle that has a stance of an SUV stance without matching the latter's off-road capabilities, Audi officials said the 2.0 TDI quattro version will be priced Rs 26,21,000, similar to that of its entry-level sedan A4.
Though there is tremendous interest in the market, Audi India will be able to take in only 500 bookings due to production constraints at the European plant.
This youngest member of the Audi Q family was unveiled at the Auto Expo in January 2012, and is one of the most awaited vehicles to hit the Indian roads in recent times. Equipped with a powerful and efficient 2.0 TDI quattro engine.
The base variant is priced at Rs 26,21,000 and the top variant Rs 31,49,000.
"The launch of the Audi Q3 is in line with our top-down strategy for India. The Q3 is immediately recognizable as the youngest member of the Audi Q family. Now we are starting the next chapter of our success story: As a true luxury SUV, the Audi Q3 leads the way for the Four Rings to enter a new segment in India, with ever increasing customer groups demanding for luxury mobility in a compact form.
Every aspect of the Q3 showcases Audi technology - the body, the drivetrain, the chassis and the assistance and multimedia systems. Many of these elements come directly from the luxury class.
At present, only 500 Audi Q3's will be available for initial booking. We are confident that Audi Q3 will repeat the success of Audi Q5 and Audi Q7 and further consolidate our leadership position in the luxury SUV segment", said Michael Perschke, Head, Audi India.