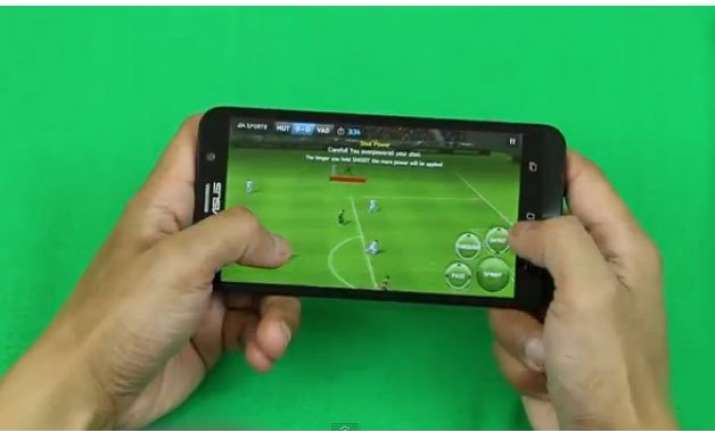 Asus Zenfone 2 smartphone is coming to India today and Flipkart has already created a special page for the upcoming product. The phone promises killer specs that it says will change the way we use our smartphones.
The handset, first unveiled at CES 2015 in January, features a 5.5-inch Full HD IPS+ screen, a 64-bit Intel Atom Z3580 processor with 4GB RAM, a 13MP PixelMaster camera, and an Intel LTE-Advanced modem for 4G/LTE connectivity. The device gets its juice from a 3000mAh battery.
Indeed, 4 GB of memory is an impressive figure. But what does it benefit you. YouTube user L BS gives us a video showng how smooth multitasking is between one of the most resource intensive type of mobile apps: games.
Games like FIFA 15, Real Racing, GTA, N.O.V.A., Asphalt, are not the casual mobile games which can run on handsets offering lowr RAMs. Instead, these games require heavy usage of RAM. And as seen in this video, the games play as smooth as butter. It can be easily seen that user L BS easily switches between the five games with no noticeable delay or lag.
ALSO READ: Asus Zenfone 2 to be launched today
 
Having 4 GB of RAM is the highlight of the Zenfone 2. Here's why: Programs are loaded from their storage in internal (or external memory) into RAM when they are used. It is because I/O operations on RAM is exponentially faster than it is on storage. This means more the RAM in a smartphone, the faster is can operate.
The Zenfone 2 comes with a lot of nifty features. One can scribble a command on the screen to launch a pre-determined application. It also has double-tap wake feature and double-tap shrink. The phone comes with a feature called 'one-hand' use, which makes using the device easier with one hand.