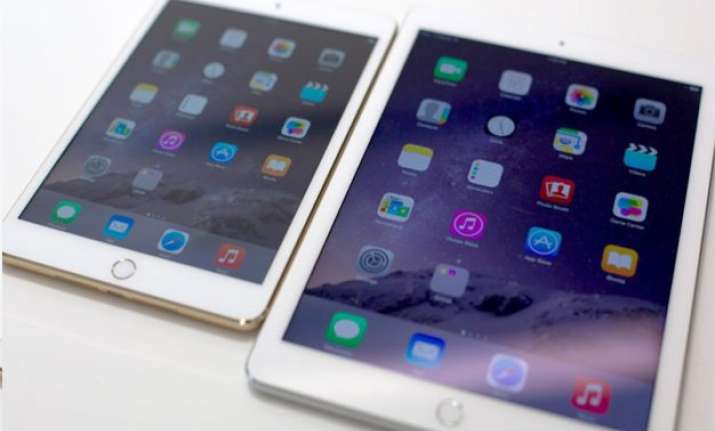 New delhi: Apple is set to announce the launch of iPad Air 3, the tech giant's latest tablet offering, at a major event next month, indicate reports. The event, scheduled for March 15, could also see the announcement of some of its other devices other than the iPad Air 3, which is being pitted as an alternative to the iPad Pro.
Apart from the iPad Air 3, the long rumoured iPhone 6c -- also known as iPhone 5se -- is also expected to make its first appearance at Apple's March 15 event.
According to Vine Report, Apple is in plans to hold a major event to mark the release of three of its gadgets on March 15. If this rumour proves true, the event will be Apple's first important presentation since the previous fall launch in September last year. However, experts predict the spotlight to be on the iPad Air 3.
In terms of specifications, the iPad Air 3 will debut with a quad-speaker, giving users an experience of high quality stereo. This design is expected to be satisfactory for watching movies, streaming videos and listening to music. The Air 3 is also believed to be 0.05 mm thicker and 0.1 mm wider than its predecessor the Air 2.
Connectivity-wise, the iPad Air 3 is predicted to arrive with a smart connector intended for its own Smart Keyboard case. As a substitute for finger touch, an Apple pencil is likely to be used. Also, Apple's iPad Air 3 is believed to arrive with a rear-LED flash, which will enhance image and video quality, even in low-light surroundings.
The iPad Air is also set to feature a larger screen and a more powerful processor, which may be improved by a 4GB of RAM and speculated to be sold at $499 and an additional price will be added for the keyboard and the Apple pencil.
For now, it is an anxious wait for March 15 when Apple spills the beans on what it actually has in store for us.