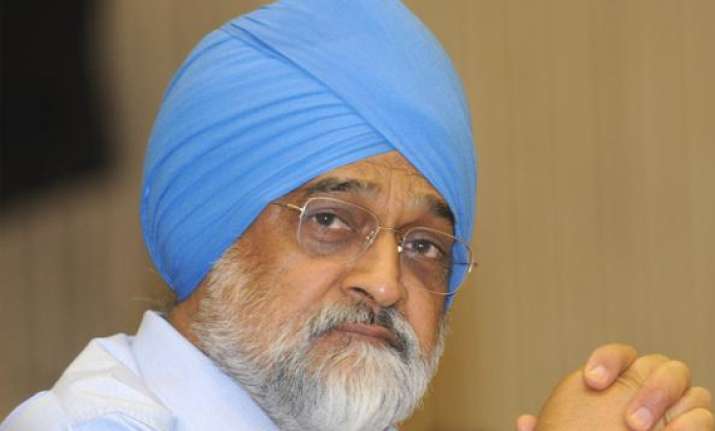 New Delhi, Jun 28: Achieving  nine per cent annual growth rate target for the 12th Plan is not feasible in the difficult global environment and even 8-8.5 per cent is an "ambitious" goal which will require massive reforms, Planning Commission Deputy Chairman Montek Singh Ahluwalia said today.
"Realistically thinking.. nine per cent growth over next five year (in 12th Plan)...is simply not feasible," Ahluwalia told reporters here.
He said while he would not lower the growth target for the 12 Plan (2012-17) as set out in the Approach Paper,as an economist,achieving it would not be feasible.
"I won't lower the growth projections between 8 to 8.5 per cent (in 12th Plan), which in current global context is a not comfortable achievement in the five-year period."
He also said that the average growth rate during the first two years of the 12th Plan would be around 7 per cent as the economy would grow by 6.5 to 7 per cent this fiscal and about 0.75 per cent more in 2013-14.
The Commission had set a target of nine per cent average annual growth target in its Approach to the 12th Plan, which was approved by the NDC headed by Prime Minister Manmohan Singh after taking all chief ministers and cabinet ministers on board in October last year.
With the economic growth touching a nine-year low of 6.5 per cent for 2011-12 and poor industrial expansion 0.1 per cent in April, it was being debated whether the Planning Commission would downsize its target for the 12th Plan.
While Ahluwalia did not hint at revision of the growth target, as an economist he believes the government has to do a lot of reforms and take policy measures to achieve 8 to 8.5 per cent average growth in 12th Plan which too is "ambitious".
Even as feasible growth projections for the 12th Plan at the time of drafting the Approach Paper was 7.8 to 8 per cent, the Commission suggested the nine per cent target for the five year period.